Brushed Motor
Coreless moving coil is light weight, superior in quick starting and stopping (high speed response).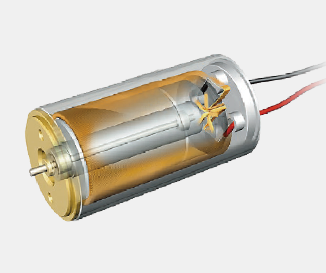 | | |
| --- | --- |
| Efficiency | High efficiency and no iron loss |
| Responsiveness | Very low inertia and able to start/stop quickly |
| Life | Low inductance and long life |
| Control | Linear characteristics |
| Cogging | No magnetic cogging |
| Electromagnetic noise | Low electromagnetic interference |
Brushed coreless motor does not have an iron core, and consists of a cup-shaped core as rotor and a permanent magnet inside the rotor as stator. Brushed coreless motor features the following: Coreless motor features the following:
Features
Cup-shaped rotor coil is very light weight and has a small moment of inertia, allowing the motor to start and stop quickly.
Because there is no cogging due to stator-rotor positioning, it features smooth rotation, low noise and low vibration.
Motor can be made in compact sizes because it is made only of rare earth magnet, coil and rotor.
For the reasons mentioned above, our brushed coreless motor is used in many applications that require high precision, high speed response, as well as compactness and high efficiency.
Issues & challenges in Brushed Motor
The primary factors affecting the lifespan of brushed motors are abrasion due to rotational contact of the brush and commutator, and electric corrosion during polarity switching. While precious metal contact material minimizes the electric corrosion, physical abrasion remains an issue. Changing the brush material to carbon-based can prevent the mechanical wearing, but at the same time, this can increase electric spark noise. In general, brushed motors are not suitable for power motors because they can't accept large flow of electric current.
Orbray presents brushed coreless motors that address these issues equally.
Brushed Motor Standard Model
Products
Gearhead
Dia.
[mm]
Length
[mm]
Nomi
nal
Vol
tage
[V]
Nominal
No-load
Stall
Mecha
nical
time
constant
[ms]
Max.
effici
ency
CAD
download
Torque
[mNm]
Speed
[rpm]
Current
[mA]
Output
Power
[W]
Speed
[rpm]
Current
[mA]
Torque
[mNm]
Current
[mA]
Encoder
with
no
CMS07-1707
Planetary
7
17
3.7
0.14
17,100
104
0.5
20,200
19
0.94
571
6.8
67
2D
3D
2D
3D
CMS07-1726
Planetary
7
17
7.4
0.14
18,600
54
0.5
22,100
10
0.84
283
7.5
65
2D
3D
2D
3D
CMS10-1306
Supr
Planetary
10
13
3.7
0.14
17,900
103
0.5
21,100
18
0.92
587
11.3
68
2D
3D
2D
3D
CMS10-1321
Supr
Planetary
10
13
7.4
0.14
20,900
61
0.6
24,500
10
0.96
352
11.8
68
2D
3D
2D
3D
CMS10-1346
Supr
Planetary
10
13
12.0
0.14
24,500
45
0.7
28,700
8
1.0
264
12.3
69
2D
3D
2D
3D
CMS10-1805
Supr
Planetary
10
18
3.7
0.27
10,400
116
0.6
12,200
19
1.89
689
7.0
69
2D
3D
2D
3D
CMS10-1818
Supr
Planetary
10
18
7.4
0.27
12,500
70
0.7
14,600
12
1.91
418
7.3
69
2D
3D
2D
3D
CMS10-1834
Supr
Planetary
10
18
12.0
0.29
15,500
56
1.0
18,000
9
2.16
357
7.5
71
2D
3D
2D
3D
CMS12-1506
Supr
Planetary
12
15
7.4
0.44
21,900
186
2.2
25,100
27
3.40
1261
15.4
73
2D
3D
2D
3D
CMS12-1514
Supr
Planetary
12
15
12.0
0.43
23,700
123
2.4
27,200
18
3.36
833
15.9
73
2D
3D
2D
3D
CMS12-2004
Supr
Planetary
12
20
7.4
0.44
20,400
150
3.2
22,200
13
5.48
1744
8.9
83
2D
3D
2D
3D
CMS12-2010
Supr
Planetary
12
20
12.0
0.45
20,400
99
3.5
23,000
8
5.77
1173
8.8
82
2D
3D
2D
3D
CMS12-3005
Supr
Planetary
12
30
7.4
0.79
11,800
162
2.9
13,000
16
8.55
1605
5.5
81
2D
3D
2D
3D
CMS12-3010
Supr
Planetary
12
30
12.0
0.83
13,700
121
3.7
15,000
12
9.40
1254
5.6
82
2D
3D
2D
3D
CMS16-2304
Supr
Planetary
16
23
7.4
0.89
13,000
209
3.3
14,500
24
8.78
1849
9.3
79
2D
3D
2D
3D
CMS16-2309
Supr
Planetary
16
23
12.0
0.94
14,000
145
3.9
15,500
16
9.67
1340
9.3
80
2D
3D
2D
3D
CMS16-2337
Supr
Planetary
16
23
24.0
0.89
14,900
73
3.8
16,600
8
8.66
643
9.5
79
2D
3D
2D
3D
CMS16-2805
Supr
Planetary
16
28
7.4
1.03
8,100
146
2.6
8,900
15
11.05
1420
5.9
81
2D
3D
2D
3D
CMS16-2812
Supr
Planetary
16
28
12.0
1.08
8,400
97
2.9
9,200
10
12.14
992
6.0
81
2D
3D
2D
3D
CMS16-2852
Supr
Planetary
16
28
24.0
1.02
8,700
48
2.7
9,600
5
10.85
465
6.1
80
2D
3D
2D
3D
CMS16-3302
Supr
Planetary
16
33
7.4
1.63
9,500
250
6.9
10,100
17
26.13
3761
4.4
87
2D
3D
2D
3D
CMS16-3306
Supr
Planetary
16
33
12.0
1.58
9,300
147
6.4
9,900
10
24.66
2155
4.4
87
2D
3D
2D
3D
CMS16-3317
Supr
Planetary
16
33
24.0
1.69
10,900
92
8.5
11,600
6
28.09
1432
4.4
88
2D
3D
2D
3D
Brushed Motor 4pole High Torque Model
Products
Gearhead
Dia.
[mm]
Length
[mm]
Nominal
Voltage
[V]
Nominal
No-load
Stall
Mecha
nical
time
constant
[ms]
Max.
effici
ency
CAD
download
Torque
[mNm]
Speed
[rpm]
Current
[mA]
Output
Power
[W]
Speed
[rpm]
Current
[mA]
Torque
[mNm]
Current
[mA]
Encoder
with
no
C4S10-1307
Supr
Planetary
10
13
4.7
0.28
13500
136
0.7
16300
28
1.66
657
4.9
63
2D
3D
2D
3D
C4S10-1907
Supr
Planetary
10
19
7.4
0.45
14900
120
2
16500
1100
4.62
1100
TBD
79.6
2D
3D
2D
3D