Today, industrial robots already serve in many production sites for welding, assembling, board mounting and palletizing processes and have become essential to our lives.
In recent years, demand has been increasing for robots that are able to cooperate with workers at the production sites and operate under special/ dangerous environments where people cannot enter. For such robots, the robot end effector (robot hand) is essential. Orbray has developed a robot hand with new concepts based on human-like dexterity, de-energized locking, and high power output. In order for a robot hand to be skillful like a human hand, it needs to have multiple degrees of freedom in movement, which requires many actuator mechanisms to be set in the fingers and palms. Also, miniaturization is an important factor, as actions such as using tools require the hand to be as small as a human's. In order to set the actuator mechanism in the tiny space within a robot finger, motor and ball screw are set in parallel and fingers are designed to bend and extend as motor movement transfers through ball screw and links, thus enabling the robot hand to be downsized.
Existing robot hands require a constant and high current input to maintain their hold on objects. In contrast, our patented no electricity locking system, "dyNALOX", installed in each joint of the hand enables the fingers to maintain their positions after the current input is turned off. This unique locking feature helps minimize power consumption and heat generation of the motors.
In case of a sudden blackout, a failure in a transmission cable, or a battery problem, the hand still can hold the objects without electricity, leading to absolute holding reliability of the hand.
An example of a practical application for this is disaster-prevention robots, which are expected to work outside and use a battery as their main power source. Having motors with low power consumption will extend the operating period of the total system. Additionally, the unique locking feature, which allows the robot to maintain hold on an object even if its power supply is disrupted, contributes to the "toughness" of the robot in emergency situations.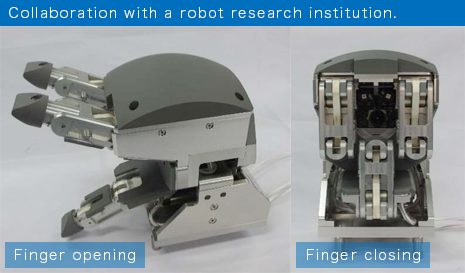 dyNALOX
Registered patent
Patent No.6142204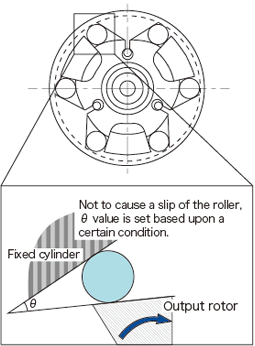 Application
Robot Hand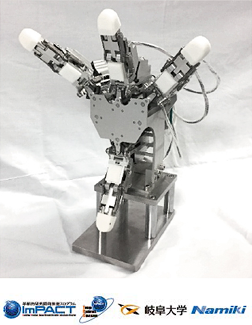 Orbray partnered with Gifu University and developed a flexible and high power robot hand for ImPACT (Impulsing PAradigm Change through disruptive Technologies program), which is led by the Cabinet Office, and the Council for Science, Technology, and Innovation.
Although the hand is relatively small, with a max. length of 308mm and weight of 2,450g, it has the flexibility of 4 fingers, 16 joints, and 12 degrees of freedom. It can exert fingertip force of 150N, and has the potential to retain hold on a 600N object even without electricity.