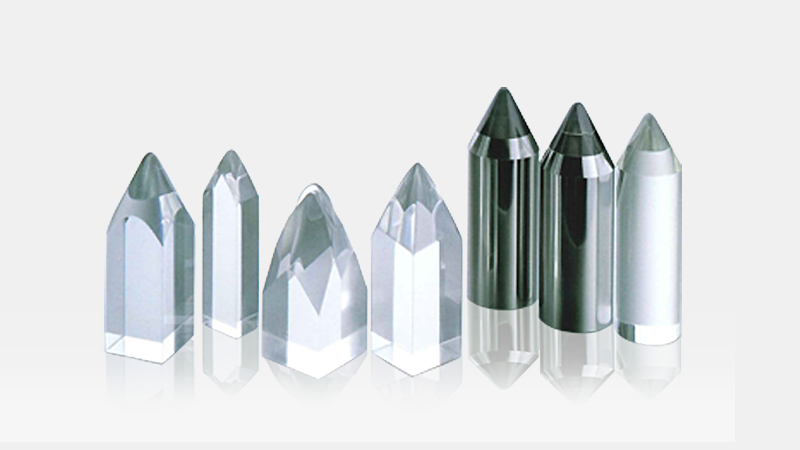 When playing back a record, the most important part for both cartridge and record is the stylus which comes into direct contact with the groove and picks up its fine vibration.

Our styli are produced with meticulous care from the diamond material to processing, finishing, and even assembly to the cantilever to achieve ideal tracing of the record groove.

Our production process utilizes the most advanced polishing technology for the tip of the stylus that comes in contact with the groove. Our products are widely adopted by famous cartridge makers both domestically and overseas for high-end cartridges.

To guarantee the quality, all products are inspected with a variety of equipment including an electron microscope.
Specifications of tips by shape
Type of tip
Symbol
r(μ)
R(μ)
T(μ)
G(μ)
MicroRidge
- MR
2 ∼ 3
70 ∼ 80
70 ∼ 80
6 ∼
Type III
- III
5 ∼ 8
35 ∼ 45
16 ∼ 21
5 ∼ 9
Elliptical
- E /.3 x .7mil
5 ∼ 10
(.2 ∼ .4mil)
15 ∼ 20
(.6 ∼ .8mil)
Spherical
- R / .5mil
10 ∼ 15 (.4 ∼ .6mil)
- R / .6mil
13 ∼ 18 (.5 ∼ .7mil)
- R / .7mil
15 ∼ 20 (.6 ∼ .8mil)
MicroRidge
Our MicroRidge stylus has a minuscule curve radius that will not be altered by abrasion. It is capable of playing signals back precisely, so high frequency sound and wide dynamic range can be played without distortion. It's a top-of-the-line stylus with high performance, long life and high fidelity sound reproduction.

Shibata III
A type of line contact stylus suitable for 4ch records (CD-4 format). Its reproducing frequency band is wider than the elliptical stylus and it can trace a high frequency range. By extending the contact line between the sound groove and the tip, the stylus pressure per unit area can be reduced, prolonging the life of both the record and the stylus tip.

Elliptical
By grinding the spherical stylus from both sides and then rounding out the corners, the curvature radius becomes 0.3 mil x 0.7 mil. Compared to the spherical stylus, the elliptical stylus reduces distortion and is excellent for high frequency reproduction. Exerts greater pressure per unit area, which shortens the service life.

Spherical
The standard form for stereo styli. The spherical stylus tip is normally used for general-purpose models. The bass can be reproduced powerfully and stably. The curvature radius is 0.5mil to 0.7mil.

MicroRidge Stylus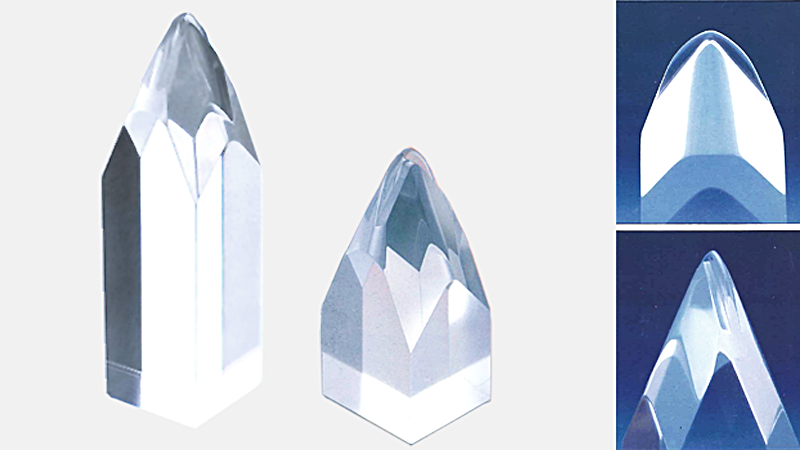 Our MicroRidge stylus (or, MR stylus), as its name suggests, has a miniscule curve radius that is impossible in other styli. It has a belt-like (MicroRidge) shape with a width of just a few microns and a suitable height.

In most styli, the curvature increases due to wear, consequently reducing performance. However, our MicroRidge has a minuscule curve radius that is not altered by abrasion, so the initial performance quality is maintained throughout its lifespan. Using our MR stylus, there is the potential to develop a perfect playback system, with increased dynamic range of sound, more accurate, high quality recording, and high density mechanical recording.

Additionally, sound performance can be upgraded without any drastic changes to our production process.
Features
Carefully-selected, natural octahedral single crystal diamond is precisely processed after determining the exact crystal axis. The MR stylus has a micro curvature radius that picks up the smallest signals and plays them back. The belt-like (MicroRidge) contact shape has a uniform, few-micron width and suitable height.
The unique MicroRidge shape of our stylus enables microprecision processing, and accurate production of a very small curvature radius not possible with conventional styli.
With conventional styli, there is a tendency for the curvature radius to increase over time due to wear. In contrast, a main feature of the MicroRidge structure is that wear won't change the curvature radius.
The MR stylus allows for undistorted playback of high frequency sound and high dynamic range.
The microprecise curvature radius reproduces sound without distortion, even at the center and periphery of the record.
As demand for high-density mechanical sound recording increases, the MR stylus makes it possible to further develop high-quality record production.
With the above merits, the MR stylus is truly a high-end styli that enables enhanced performance and high-fidelity sound reproduction.
| | r | R | Rw | Rh | T | G |
| --- | --- | --- | --- | --- | --- | --- |
| MR-XL | 2∼3μ | 70∼80μ | 4∼6μ | 5∼10μ | 15∼21 | Dc > 6μ |
Comparison of Frequency Response between MicroRidge and Line Contact
Orbray's record styli produce hi-fi analog playback. The diamonds used for our styli are the same high quality as those used in rings or other jewelry. This is because diamonds have crystal axes, so precision machining can only be performed on high-quality diamonds.

The tip of the the diamond stylus is produced with micro precision. A circular stylus has a diameter of .5 mil (0.0127mm), and an elliptical stylus has a diameter of .3 x .7 mil.

(a) Top-quality octahedral diamond is used as the raw material.
(b) Diamond powder is used to polish along the crystal axis.
In order to process the tip, the crystal is inserted into a metal rod and carefully polished.
(c) The point can be formed into desired shape, such as round or ellipse.
Afterwards, the crystal is removed from the metal rod and the opposite end is cut down.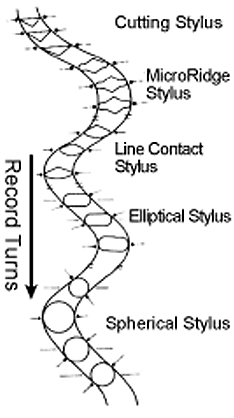 How various types of reproducing styli contact record groove
Reproducing styli are different in shape from cutting stylus witch cuts record groove. This is the reason why tracing distortion at the maximum amplification is inevitable.