How did Namiki, a jewel manufacturer, turn to motor production?
Rare earth magnet, coil winding technology based on German patent, and Orbray's fine machining technology cultivated in the watch industry were combined and have led us to create technologies for the smallest ever micro DC motors.
The birth of magnet (From Phonograph Record Stylus and Cartridge, to Magnet)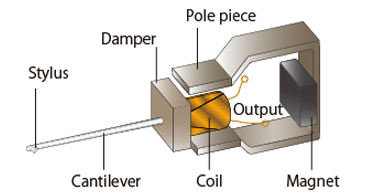 The developing race in Japan's audio industry in the 1960s was focusing on high-performance, or "Hi-Fi (High-Fidelity)". The market demands increased sound fidelity in the cartridge. The cartridge structure consists of a diamond stylus fixed onto an aluminum tube which traces the groove written in the phonograph record disc to pick up the sound data. This oscillation pickup by the diamond stylus is transmitted to the magnet located on the other end of the aluminum tube where it interfaces with a coil and this generates sound. High sound fidelity requires a light and strong permanent magnet.

In response to this market demand for Hi Fi sound, we developed a rare earth magnet that produced a magnetic force 10 times higher than the conventional magnet type. This led us to developing the world smallest coreless DC motor and producing a high end dynamic range speaker.
Winding technology (Magnetic Tape Heads)
In the late 60s, magnetic tape heads for tape recorders were developed and marketed. The winding technology established at that time was handling a 0.03mm wire for 3000 turns. Therefore, a specialized winding machine was developed internally. This eventually enabled us to develop winding technology that brought us to the micro coil winding technology required in our coreless DC motor today.