Brushless Motor
Because the rotor is free of other objects (no brush), it is designed for high power, and noise-less by principle. It is suitable for long-life use.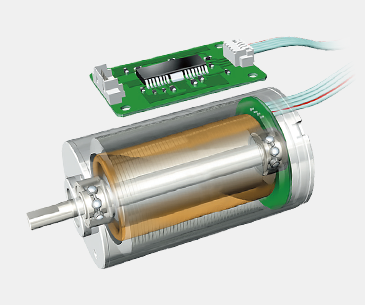 | | |
| --- | --- |
| Output | Because of no-contact design (no brush/commutator like cored/coreless motor), large current can be input and heat in the coil dissipates quickly |
| Life | Long life time because of no-contact design |
| Control | Linear characteristics |
| Cogging | No magnetic cogging |
In our brushless motor, we removed the mechanical contacts such as brushes and commutators used in conventional brushed motors, and applied an electric signal to take their place. The brushless motor requires an electric circuit board because there is no commutator. This motor (circuit board) has two types, one with a magnetic sensor, and the other with no sensor. The one with the magnetic sensor detects its position via the sensor, and the other detects the rotor magnet position via back-EMF. Brushless motor's features are as follows:
Features
Stator coil is located outside in inner rotor type brushless motor. Therefore, it is good in heat dissipation.
Because there are no contacts (brush/commutator), large current can be input to answer to high power needs.
No mechanical noise and no electric noise for switching current(no brush and no commutator)
Long life and high reliability (due to no-contact design)
In Orbray's brushless motor, stator is a slot-less core with cup-shaped coil, and rotor is the magnet inside. Therefore, magnetic force is even regardless of coil/magnet position, and motor rotation is free of cogging.
Issues & Challenges in Brushless Motor
As brushless motors have no mechanical contacts for polarity switching, they have high power and long lifespan. However, due to the rotating magnet core, the inertia is much larger than that of coreless brushed motor and the response time slower.
Orbray presents brushless motors that address these issues equally.
Brushless Motor Standard Model
Pro-
ducts
Dia.
[mm]
Len-
gth
[mm]
Nominal
Voltage
[V]
Nominal Values
No load
Stall
Mecha-
nical
time
constant
[ms]
Max
effici-
ency
[%]
Option
CAD
download
Torque
[mNm]
Speed
[rpm]
Cur-
rent
[mA]
Out-
put
[W]
Speed
[rpm]
Cur-
rent
[mA]
Tor-
que
[mNm]
Cur-
rent
[mA]
Con
nec
tion
Bearing
Encoder
slee-
ve
BB
with
no
BMN04-0829
4
8
3.0
0.01
24,200
53
0.04
37,000
28
0.04
100
9.2
22
A
(sensor-
less)
○
×
2D
3D
2D
3D
BMN07-1207
7
13
3.0
0.06
17,100
182
0.2
21,300
120
0.30
430
7.3
22
B(A※)
○
×
2D
3D
2D
3D
BMN07-1218
5.0
0.06
17,900
117
0.2
22,300
78
0.30
280
7.7
22
B(A※)
○
×
2D
3D
2D
3D
BMS10-1003
10
10
4.0
0.17
30,400
384
0.9
37,900
185
0.86
1190
10.9
37
C
○
×
2D
3D
2D
3D
BMS10-1008
6.0
0.15
27,100
208
0.8
33,800
103
0.75
630
11.1
36
C
○
×
2D
3D
2D
3D
BMS10-1803
18
7.4
0.63
27,000
351
4.5
31,300
63
4.54
2140
3.9
69
C
○
×
2D
3D
2D
3D
BMS10-1806
12.0
0.68
30,800
268
4.9
35,800
49
4.86
1621
4.1
68
C
○
×
2D
3D
2D
3D
BMS12-1503
12
15
7.4
1.05
21,461
523
3.9
26,200
113
5.73
2350
4.3
61
D
○
×
2D
3D
2D
3D
BMS12-1506
12.0
1.10
25,683
394
5.2
31,000
82
6.33
1877
4.6
63
D
○
×
2D
3D
2D
3D
BMS12-2102
21
7.4
1.83
19,200
706
6.9
22,800
100
11.60
3940
2.7
71
D
○
×
2D
3D
2D
3D
BMS12-2104
12.0
1.60
21,100
418
7.7
24,300
70
12.09
2700
2.8
70
D
○
×
2D
3D
2D
3D
BMS16-2001
16
20
7.4
3.20
18,800
1305
9.4
23,800
188
15.06
5450
5.7
66
D
○
△
2D
3D
2D
3D
BMS16-2004
12.0
2.42
19,700
620
9.7
23,200
113
15.97
3460
5.3
67
D
○
△
2D
3D
2D
3D
BMS16-2013
24.0
2.45
21,100
334
10.6
24,800
60
16.30
1880
5.5
67
D
○
△
2D
3D
2D
3D
BMS16-3001
30
7.4
3.25
12,600
807
9.5
14,500
123
25.10
5390
3.6
72
D
○
△
2D
3D
2D
3D
BMS16-3002
12.0
3.90
14,800
660
15.4
16,600
86
35.33
5290
2.9
76
D
○
△
2D
3D
2D
3D
BMS16-3010
24.0
3.86
14,000
311
14.0
15,800
41
33.84
2410
2.9
76
D
○
△
2D
3D
2D
3D
BMS17-1821
17
18
24.0
2.36
16,000
291
6.2
20,000
72
11.80
1170
16.3
57
D
×
○
2D
3D
2D
3D
BMS22-2113
22
22
24
5.50
10,000
381
10.2
12,000
80
32.30
1850
7.9
62
D
×
○
2D
3D
2D
3D
Brushless Motor 4pole High Torque Model
Pro-
ducts
Dia.
[mm]
Len-
gth
[mm]
Nominal
Voltage
[V]
Nominal Values
No load
Stall
Mecha-
nical
time
constant
[ms]
Max
effici-
ency
[%]
Option
CAD
download
Torque
[mNm]
Speed
[rpm]
Cur-
rent
[mA]
Out-
put
[W]
Speed
[rpm]
Cur-
rent
[mA]
Tor-
que
[mNm]
Cur-
rent
[mA]
Con
nec
tion
Bearing
Encorder
slee-
ve
BB
with
no
B4S12-2108
12
21
12.0
11.1
13111
277
4.5
15320
55
11.1
1592
3.5
66
D
○
○
2D
3D
2D
3D
B4S12-2109
15.0
11.6
16646
279
5.9
19300
56
11.6
1678
4.2
67
D
○
○
2D
3D
2D
3D
B4S22-3210with Gear
22
32
24.0
10
6073
365
13.9
7000
53
75.5
2412
3.9
73
E
×
○
2D
3D
2D
3D
Meaning
○ = Available as standard
△ = Available as option
× = Not available
A∼G = Pin assignment pattern (see table)
Brushless Motor Pin Assignment Pattern
Pattern
#1
#2
#3
#4
#5
#6
#7
#8
Applicable motor
A
FPC
coil U
coil V
COM
coil W
-
-
-
-
BMN04, BMS07
(sensorless時)
B
sensor V
sensor U
Gnd
Vdd
sensor W
coil V
coil W
coil U
BMS07
C
leadwire
coil W
coil U
sensor U
sensor V
sensor W
coil V
Gnd
Vdd
BMS10 series
D
coil U
coil V
coil W
Vdd
Gnd
sensor U
sensor V
sensor W
BMS12/
BMS16 series/
B4S12
E
coil W
coil V
coil U
Gnd
Vcc
sensor W
sensor V
sensor U
B4S22-3212
F
Terminals
coil W
sensor W
COM
coil W
-
-
-
-
BRS/BRT17-15
BRS/BRT17-18
G
H1 sensor U
H2 Vcc
H3 Gnd
H4 sensor W
H5 sensor W
L1 coil U
L2 coil V
L3 coil W
BRS/BRT12-15
Outer Rotor Pancake Brushless Motor
Products
Dia. [mm]
Thickness [mm]
Nominal Voltage [V]
No-load
Stall
Speed [rpm]
Current [A]
Toreque [mNm]
Current [A]
SOBL23-1207
23
12
12
5730
0.127
26.8
1.38
Driver
Products
Voltage supply:VCC
Applicable motor types
SSD06-R5A
1.8~ 5.5
Sensorless brushless motors;
BMN04-08XX, BMN07-12XX
SHSD24-01A
7.5~ 26.4
All Orbray brushless motors