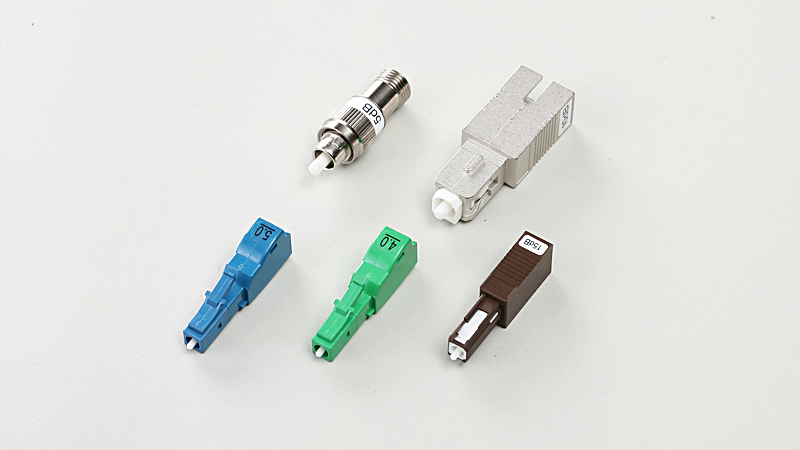 Plug-In Fixed Attenuators are mainly used for adjusting the Optical Power to a desired level.

By using Metal-Ion Doped Optical Fibers, the Plug-In Fixed Attenuators convert optical power into heat and the power is then attenuated inside the Device. The structures of the Plug-In Fixed Attenuators are simple and the power-proof and performance stability is superior when compared to our competitor's products that utilize a metal membrane.

We manufacture our attenuators with various specifications such as different connector types or end face configurations. The Attenuation Level in dB ranges from 0dB to 25 dB at intervals of 0.5 dB.

Moreover, all of our Fixed Attenuators are composed of our top quality precision ferrules thus, guaranteeing a stable performance at a high quality level.

Available In-Line Fixed Attenuator.
Fixed Attenuator
Using optimized ion doped fiber technology
Superior spectral flatness and very low rippers
Withstands high optical power up to 250mW
Attenuation Value
Standard
PC
0dB to 20dB
(1dB step),25dB
APC
Custom
Step to be specified
Operating wavelength
1260nm~1620nm
Return Loss
SPC
≧40dB
UPC
≧50dB
APC
≧60dB
Attenuation Tolerance
Standard
0dB~10dB
±1.0dB
11dB~25dB
±1.5dB
Custom
To be Specified
Maximum Power Capability
250mW
Operating temperature
-40℃~+75℃
FC Type
Dimension:Millimeters

SC Type
Dimension:Millimeters

MU Type
Dimension:Millimeters

LC Type
Dimension:Millimeters