Stable application is possible even in small spaces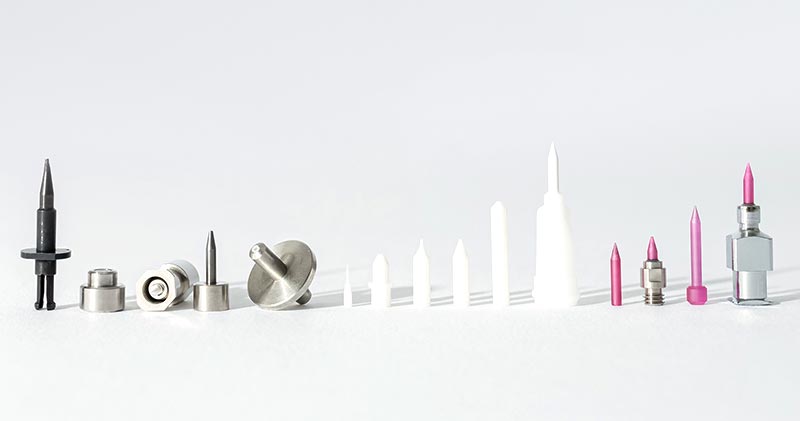 Orbray offers ceramic (alumina, reinforced alumina, zirconia) and carbide nozzles and needles, and single crystal ruby nozzles and needles. Orbray is the only manufacturer of single crystal ruby nozzles.
Nozzles can be made according to request
Can make fine holes 20 microns
Micron-level control of fine hole variation
Choice of material
(Toughened alumina, zirconia, ruby, sapphire, cemented carbide, SUS, Vespel, etc.
We can accommodate requests for various quantities, starting from small lots
Ceramic is densified by HIP
Smooth hole surface, roughness Ra 0.010 or less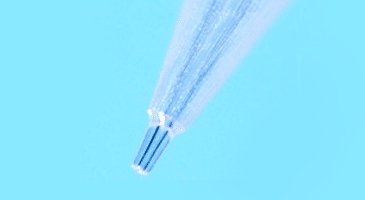 Alumina 99.99%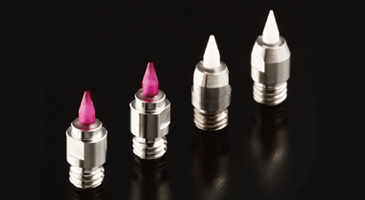 Ruby nozzle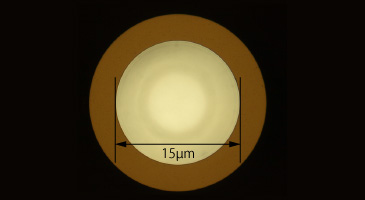 Nozzle Tip
Dispenser nozzle
and needle
Winding nozzle
Orifice nozzle
Drug reagent nozzle
Pick-up nozzle
Pick-up collet
Injection nozzle
High precision needle
Specialty nozzle
and needle
Contact
Product Type
HIP-processed ceramic nozzles and needles

High density achieved with HIP processing means less chance of chipping
Use of injection molding means no variation of inner surface shape
Shape can be produced to meet the needs of the customer
Excellent cost performance
High quality and long service life
Disposer type also available
Single crystal ruby nozzles and needles
Low resistance due to single crystal
Internal surface mirror polishing makes the flow of coating solution smooth and less likely to clog
Diameter of the opening ranges from φ30 μm down to φ15 μm (for semiconductive fine hole nozzle)
Even and stable application, high reliability, and long service life
All nozzles are compatible with double threaded screw and luer lock.
Problem solving
Problem solving of dispenser nozzles
Control of application amount
Application accuracy can be improved by devising the liquid flow path in the nozzle and the pressure control according to the purpose.
The fluid passage of the ceramic nozzle has a very smooth surface, which can reduce the loss of discharge pressure.
Interference in precision application
In cases where a minute coating is being applied to a very narrow area, the workpiece and precision nozzle may come in contact.
At Orbray, we sharpen the tip of the nozzle as much as possible for a precise application that doesn't leave residual material on the tip.
Problem Solving of Pick-up Collet (Nozzle)
We can design a pick-up surface (pick-up collet) suited for your work.
We can propose the design of a collet tip shape according to a wide variety of workpieces, starting from the selection of materials.
Long service life thanks to highly wear-resistant material
To address the problem of tip wear of the pick-up collet, wear-resistant hard materials such as single crystal ruby, reinforced alumina, and zirconia are used to improve service life.
With less wear on the tip, workpiece position accuracy can also be maintained for a long period of time, contributing to overall productivity improvement.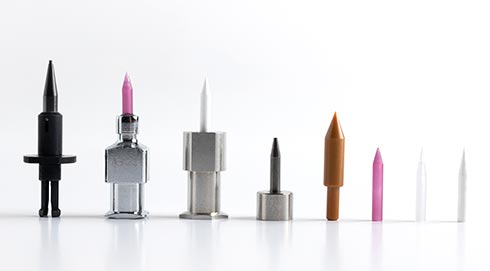 Precision processing significantly improves the productivity of liquid crystal panels through control and repeatability of minute application amounts.
Our long-life nozzles are adopted as a liquid material discharge device requiring highly accurate coating amount control. Particularly, with the expansion of panel size, further improvements in accuracy are required, surface abrasion technology of the nozzle tip and precision machining of the inner and outer diameters are utilized, enabling stable and accurate control of coating amount, single crystal ruby Nozzles are useful in the field. In the manufacturing process of LCD panels for flat-screen TVs and PCs, the adhesive is applied to a wide range of locations with a precision nozzle and needle. The failure of a single coating makes the whole unusable, so application control directly affects production yield.
Orbray contributes to the improvement of application accuracy through precise processing of nozzle shape, hole diameter size, inner diameter shape, and surface roughness based on customer's request.
Custom nozzle order flow (from consultation to delivery)
Please feel free to contact us with any questions about design, processing, etc. We will help find a solution to your needs with ultra-precision processing.

Specification confirmation, examination and proposal
After confirming the required specifications (drawings, sketches, etc.), our team of knowledgeable engineers will review the materials and shapes based on the customer's requests. After that, we will submit a drawing for approval.

Prototyping
at our factory
After the specifications are finalized, we will quickly and carefully manufacture prototypes in our factory in Akita Prefecture.

We have the capability to perform submicron-level inspection to provide high quality products.