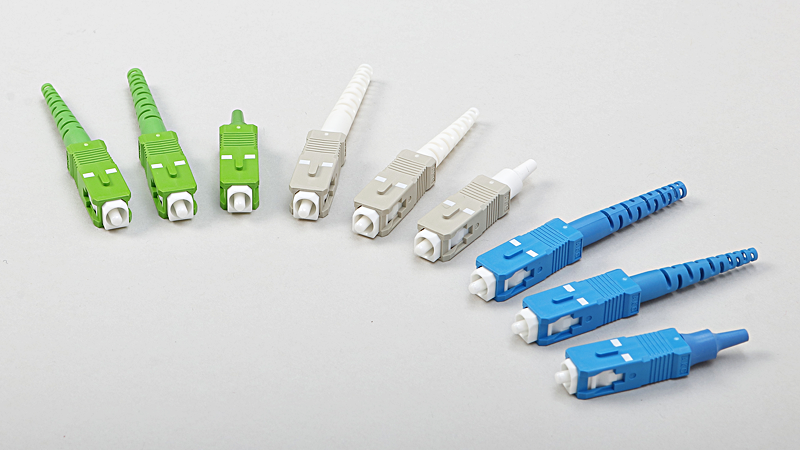 The SC Connectors and Adapters were first developed by NTT Japan and consisted of a push-pull design. The connector is composed of a plastic housing with φ2.5mm OD Zirconia Ferrules. These SC Connectors can be found in products throughout the entire world because of their high performance and ease of operation.

Because we are a specialty manufacturer of precision ferrules, easy fiber insertion, precision polish process, and high quality of the connectors are realized. There is no need to change the condition of the assembling and polishing of the ferrules because we can continue to supply completely same ferrules at the same quality level at anytime.

Ferrule Inspection Data Sheets are included with every SC Connector Kit that is shipped.

By using our top quality zirconia split sleeves, we can also ensure a stable connection and performance when using our SC Connectors along with our Adapters.
Specifications
Based on IEC 61754-13: Type SC connector
Telcordia GR-326-CORE tested
Fiber types : SM (9/125), MM (50/125, 62.5/125)
Insertion Loss*: [Connector] ≤0.1 dB (SM), ≤0.1 dB (MM)
         [Adapter] ≤0.2 dB, ≤0.1 dB (APC)
Return Loss*: ≥50 dB (SM), ≥60 dB (APC), ≥30 dB (MM)
Operation Temperature: -40℃ - +85℃
Temperture Stability: ≤0.3 dB (-40℃ - +85℃)
Mating Durability: ≤0.2 dB (500 times)
Houing Color: Blue (PC, SM), Green (APC) , Beige (MM)
※Tasted against Master Connector
Appearance: SC Connector, SC Adapter
Optimum optical performance through Orbray's high quality ferrules
Wide selection of ferrule specifications
Ferrule inspection data sheet supplied with all shipments