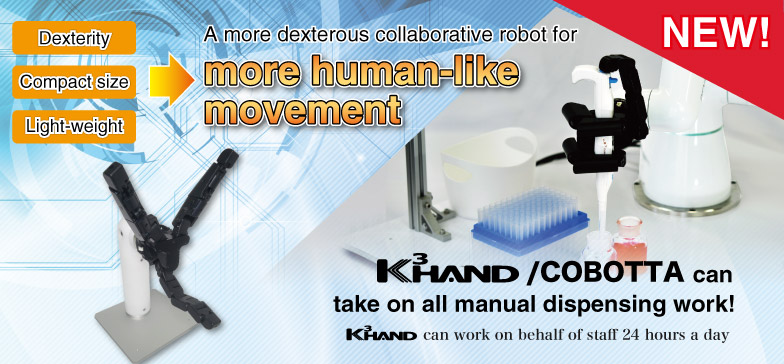 In recent years, the number of collaborative robots that work alongside people in areas such as physicochemical experiments, assembly, the food industry, etc. has rapidly increased. Cooperative robots are required to be smaller and lighter in order to save space and make installation easier, and dexterous robot end effectors are necessary for them to perform various tasks.
As a solution, we have launched a the "K3 hand" for a cooperative robot, so named for the three characteristics it boasts: kiyō (dexterity), kogata (compact size), and keiryō (light-weight).
It uses our original compact servo with non-contact output shaft encoder and clutch mechanism mounted on each active joint. It demonstrates dexterity with multiple fingers / wide motion range of movement, fitting grip mechanism, and finger adduction/abduction while still being small and light-weight. Additionally, the clutch mechanism provides safety, preventing injury in the event of impact with a human.
The K3 hand can handle a wide variety of tasks, and fingertips can be changed out according to need. The hand can perform tasks that require dexterity, such as grasping items of varying shapes, positions, and softness.
By evenly arranging three or more fingers, an item being grasped is automatically pulled to the center of the palm, meaning that even if the hand and item are misaligned, or the item is positioned roughly, the hand can still secure a grip on it.
The common goal of our robot hand is to achieve human-like motion. The shift from manual work to automation is close at hand. Orbray Co., Ltd. will continue to contribute to future robots.
Feartures
1. Dexterity=human-like =multiple fingers/multiple joints



→ wide motion range→ can hold irregularly-shaped objects in a variety of positions.

2. Compact / Light-weight (290g, excluding mounting flange)



→ Compatible with small cooperative robot arm (loading weight ~ 500 g), payload up to 100g.
Attachable to DENSO WAVE's collaborative robot, COBOTTA

3. Safety

=equipped with clutches, edgeless design→ Shock absorption in case of collision with a person.
Specifications
Max length
(fully extended)
290mm
Safety measures
Clutch equipped on each joint
Thermal shutdown function
Weight
290g(excluding mounting flange)
Control method
Command control
Fingers
3
Communication
Connection1: COBOTTA communication
Connection 2: UART
Degrees of freedom
Total:8DOF
Thumb ('clever' finger):4DOF
Standard fingers:2DOF
※Standard fingers→Fitting grip mechanism
Voltage
DC24V
Feedback signal
Servo output angle
Motor current
Max weight capacity
100g
Collaborative Robot End Effector K3HAND Demo
K3 Hand / COBOTTA can take on all manual dispensing work!
With the worldwide spread of COVID-19, increasing the number of virus tests, as well as research & development of new medicine, have become urgent needs. However, medical staff/researchers are limited, and many are exhausted.
Now, K3 hand/COBOTTA can work on behalf of staff 24 hours a day.
It can perform various dexterous operations, including gripping tubes and dispensing solutions, as seen in the picture and video examples.
We believe K3 hand/COBOTTA will be of great help in fighting this pandemic. Please feel free to contact us with any inquiries.

K3 Hand / COBOTTA supports development of new drugs/cosmetics!
Development of new drugs and cosmetics requires repeated evaluation, analysis, and safety testing of various ingredient combinations, with trials potentially reaching the hundreds. K3 hand/COBOTTA can help relieve researchers by performing some of this work. It can handle dexterous tasks such as holding and manipulating test tubes, as demonstrated in the video.

Dimensions / Range of Motion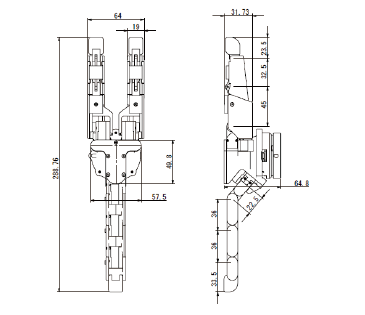 【Range of motion】
| | | | |
| --- | --- | --- | --- |
| | | Thumb ('clever' finger) | Standard fingers |
| 1st joint | adduction/abduction | -90~90° | 0~120° |
| 2nd joint | Flexion | -50~130° | 0~120° |
| 3rd joint | Flexion | -90~90° | 0~90° |
| 4th joint | Flexion(Fingertip) | -90~90° | 0~90° |
Composition

Fingertips can be changed according to task
System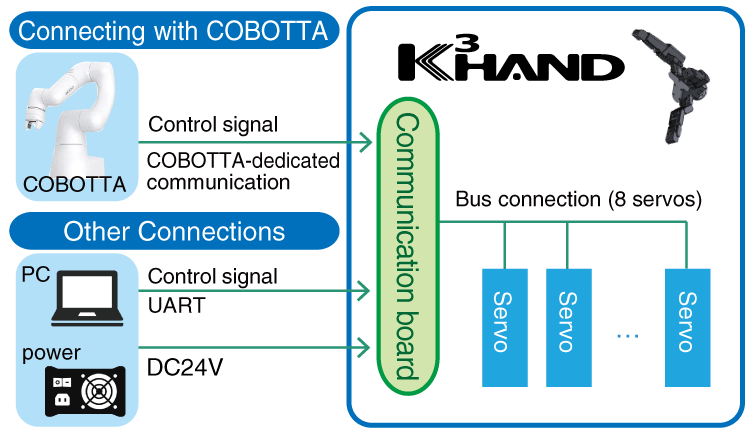 *"COBOTTA" is a registered trademark of DENSO CORPORATION.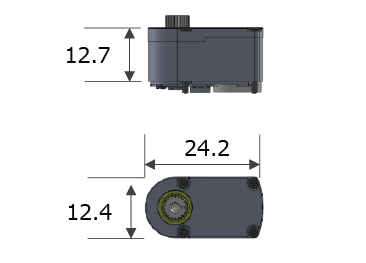 1. Small/thin



Smallest size in the industry

2. Arch shape designed for small robot joints




3. High durability clutch



Prevents damage / ensures safety

4. Non-contact potentiometer