Precision polishing of internal diameter to support accurate blood tests
Pellet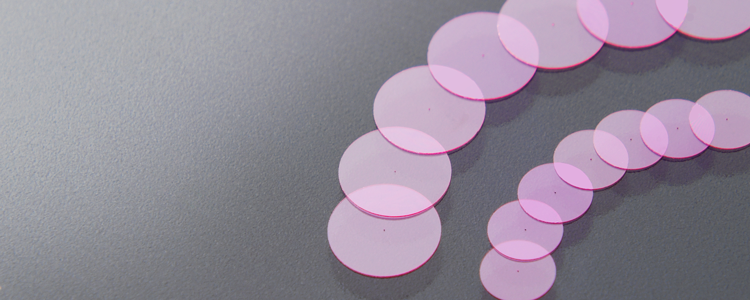 When using a blood cell counter, blood cells are counted when they pass through a small aperture hole in a jewel disk. The diameter of the hole must be a fixed size, and high precision is required for the size and polishing of the inner diameter. The inside diameter is done manually by experts using an in-house processing machine and with meticulous care from the creation of the pilot hole through to the finish. In order to count blood cells accurately, it is essential to strictly control the straight length from the inlet to the outlet of the aperture hole. There are 2 types of disks: a dish type, and a non-dish type. With the dish type, the glaze and the item to be measured are left in the hollow, and when counting, they can be made to pass through the center of the aperture, enabling accurate measurement. The disk is mirror finished with an in-house machine, and is similar in shape to our jewel watch bearings.
Without plate
Min. hole dia.: 50um
Hole dia. tolerance: Range 2um
Hole dia. roundness: Range 2um
Parallelism: 10um, max.
Thickness tolerance: Range 5um
With plate (specification)
Hole dia. tolerance: Range 4um
Hole dia. roundness: Range 5um
Inside dia. straight: Range 10um
Custom-made is possible upon request.