"dyNALOX" is Orbray's original locking system, where torque is transferred from input to output, but not the other way around.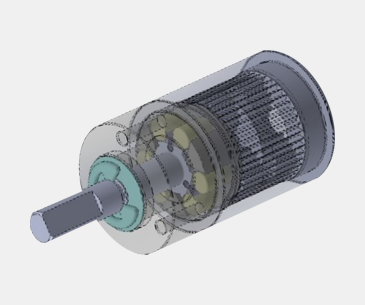 Features
Outer force is disconnected without use of a low efficiency reduction system such as a worm gear or slide screw.: System can be made small in size
No electric power is required in this system.: Contributes to low current consumption, emergency stop function
"dyNALOX" is designed to transfer torque from the input shaft to the output shaft, but rotation from the output shaft is locked so the torque from the outside does not transfer to the inside. This system can be easily adopted by adding a few extra millimeters on top of a planetary gear. With this, the motor is locked from outside force even under no-power conditions.
Composition and Mechanism

| | | |
| --- | --- | --- |
| Rollers prevent the output shaft from rotating either direction. | The rollers are pushed out by the input rotor, and the lock is removed. | Input rotor makes contact with the output rotor and the output shaft rotates. |
dyNALOX Mounted Planetary Gearhead
Feature
dyNALOX input rotor and the first stage of the planetary gear are made in one body to make it more compact.
Specification
dyNALOX series
LPG12
Outer diameter
[mm]
12
Max allowable torque
[mNm]
400
Max input speed[rpm]
8,000
Shaft radial play[°]
≦0.02
Output shaft bearing
Sintered sleeve bearing
Gear
ratio
(Efficiency)
Total
length
[mm]
1
Stage
4.8 : 1 (57%)
15.7
2
Stage
23 : 1 (66%)
19.5
3
Stage
107 : 1 (60%)
23.3
4
Stage
509 : 1 (52%)
27.2