A wedge is a tool used for wedge bonding.
Wedge bonding is a method of bonding wire to an electrode using force and ultrasonic vibration transmitted from a transducer to the wedge tool.
Generally, the wedge tool is made of tungsten carbide (WC) when used for aluminum (Al) wire, and titanium carbide (TiC) (TiC) when used for gold (Au) wire.
Titanium Wedge Tool (for Small Au Wire)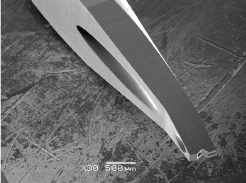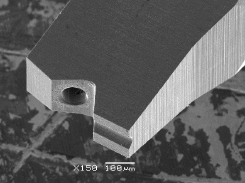 Tungsten Wedge Tool (for Large Al Wire)