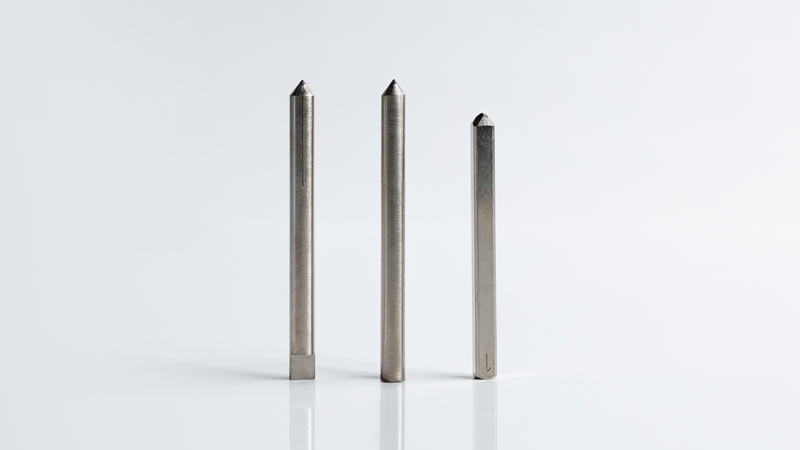 Diamond Scriber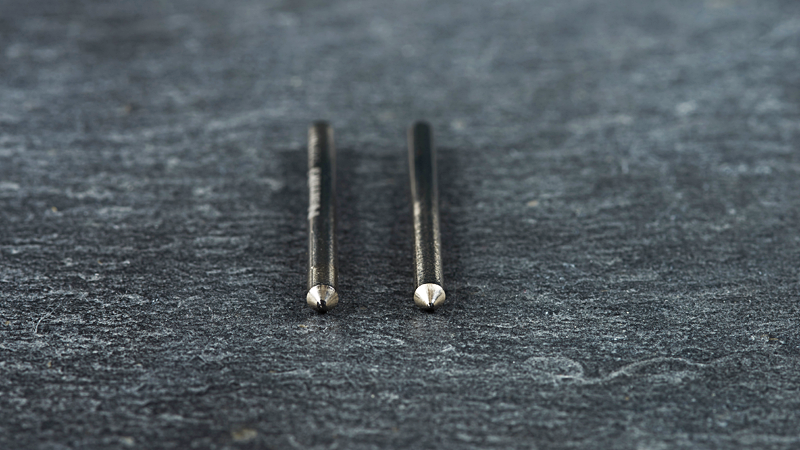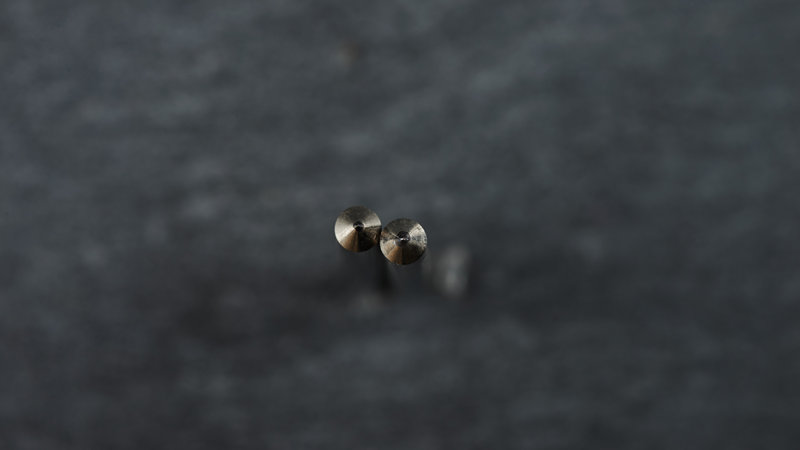 Diamond is the hardest material on earth. It also has many other superior features, for instance, the highest thermal conductivity and a wide band-gap (5.5eV). Starting with processing a diamond phonograph needle, Namiki has developed a totally new concept microfabrication technique of diamond and opened up a wide range of application fields. Recently we consider applying a micro-diamond needle with high aspect ratio to the SPM (scanning probe microscope).

Namiki has been manufacturing styluses for music records since 1971. Based on this extensive diamond stylus manufacturing experience, we developed techniques for producing diamond scriber in the latter half of the 1970s.

The normal type of scribing line is 3 points, but we also handle custom orders. Our diamond scriber are almost entirely free of chipping, and ensure a narrow and deep scribing line.
Since the shape of the cutter is like a knife, adverse impact on the wafer and chippings are minimized.
Usage
Dicing on semiconductor wafers and substrates. GaAs, In, GaN, SiC, Si, Al2O3 etc...
Features
Based on our extensive diamond stylus manufacturing experience, we select the most suitable natural diamond for scribers. In addition, our precise crystal orientation brazing, processing of various angles, and forming for a wide range of applications ensure steady sharp cutting and long life.
Also, Orbray's highly advanced QC System guarantees high-quality scribing.

Namiki can provide scribers to meet the materials and shapes you need:
Cutting points: 3P, 4P, 8P
Angle and shape of the tip: 90 to 110 degrees.
R/Sharper/Flatter
Shapes of the shank: angular shanks and round shanks, with or without D-cut
For Samples, please contact us.
Namiki Hand Scriber
Models
Wafer Material
Recommended Angle
Recommended Load
3P-1
GaAs
58° (55°∼60°)
5∼20g
3P
GaAs
58°(55°∼60°)
5∼20g
3PA
Sapphire (LDLED)
66°(65°∼70°)
20∼70g
4PH
Sapphire & GaAs (LED)
53°(52°∼53°)
20∼40g
4PT
Sapphire & GaAs (LED)
70°(57°∼70°)
20∼40g
8P
Sapphire & GaAs (LED)
Toe point: 57°
Heel point: 53°
20∼40g
In addition to the above models, customized scribers are also available.
Please consult your Namiki representative for details.
Hand Scriber
Thanks to the use of single-crystal diamond with the hardest angles, this product offers steady sharp cutting and a long life.
The DS-01 can cut GaAs/sapphire substrates, semiconductor wafers, nano-tech materials and many others.
The device cuts the materials with the color lines upwards and on the three cutting points.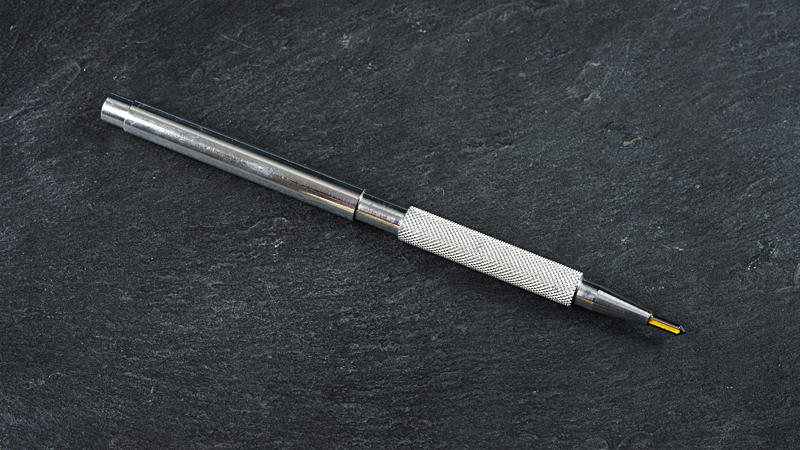 Features
Full length of the holder: 149mm
Diameter of the handle: 8.6 mm
3 points available
Possible to use 60 - degree angle to material surface
Scribe with 20 to 70 force
Crushing and excessive load may damage the diamond tip.