RC servo motor pursued "high speed response" and "high output" with evolution of batteries.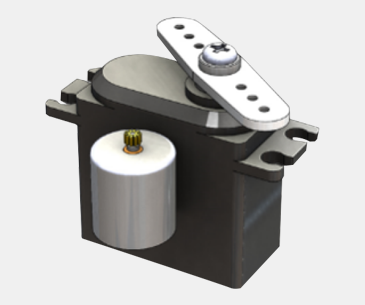 Brushed Motor
Rotor is made of a cup-shaped coreless winding coil. It features low inertia, and high speed response.
Brushless Motor
Stator is a coreless coil winding. No cogging in rotation, designed to run large current input, high output and high heat dissipation.
In RC servo applications, the mechanical time constant (the time it takes the servo to reach top speed from zero) is one of the most important specifications. Hence coreless motor, with its basket coiled rotor and faster response time, has conventionally been chosen over iron cored motor. RC servos require quick, repetitive left and right motion in a 60 degree angle, which means the motor is always running at the maximum current. This causes the coil to heat up and remain hot for the entire duration of use, limiting the lifespan. As such, RC servo is considered one of the hardest applications for DC brushed motors.
Orbray developed a coreless coiled brushless motor for RC applications that resolves both lifespan limit and the need for quick response for the first time in the RC industry.
As rechargeable batteries have evolved tremendously from Ni-Cd to high power Ni-MH, Li-Fe, and Li-Po, Orbray has developed a brushless DC motor for RC applications that is compatible with this type of high power performance. Along with this high power output, the motor also has the fastest mechanical time constant. We released the long-awaited brushless motor within the predetermined sizes of φ12mm x L15mm and φ17mm x L18mm, with a mechanical time constant faster than conventional coreless DC motors, and established a well-accepted, popular product in the field. Orbray's RC servo motor, in combination with servo makers' unique control systems, demonstrates high performance in torque and speed under all conditions, and achieves a precise operational feel.
Brushed Motor
RC Standard
RC High Speed Response
Brushless Motor
RC Standard
RC High Speed Response