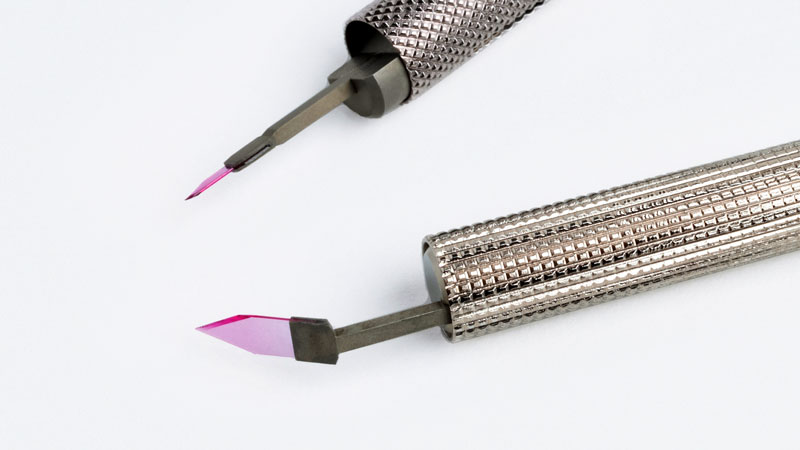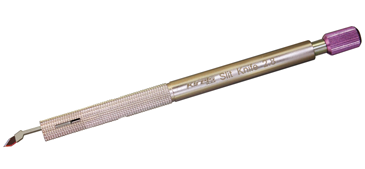 We manufacture and provide safe, high quality medical precision equipments by using our own precision processing technology.

Ruby Knives are mainly used for Ophthalmic Surgery. Ruby Knives are shaper than the conventional knife. A postoperative cure of a surgical cut can be made faster by using the Ruby Knife.

A Jet Nozzle is being developed for water knife usage and is mainly made from Ruby and Sapphire Material.
Features
Use single crystal ruby which hardness is next to diamond.
Equal edge as diamond.
Better visibility of red color od ruby during an operation.
Long life od abrasion-resistant.
Avarable as autoclave sterilization.
Blade edge replaceable.
Available as custom design.
Available to check the edge as sample.
Made in Japan.
Slit Knife

Trifacet Knife

Specification
Ruby
Diamond
Chemical Composition
Al2O3
C
Crystal System
Hexagonal
Cubic
Mohs Hardness
9
10
Knoop Hardness
Rectanglar to the C axis 1,525 ~ 1,660 kgf/mm2
5,500 ~ 9,000 kgf/mm2
Parallel to the C axsis 1,670 ~ 2,000 kgf/mm2
Melting Temperature
2040℃
3227℃ (3500K)
Thermal Conductivity
at 20℃0.1cal/cm,sec,℃
at room temperature 2.39~4.77cal/cm,sec,℃ (10-20W/cm,K)
Coefficient of Thermal Expansion
Rectanglar to the C axis
200℃
6.9 x
10-6/℃
1000℃
8.9 x
10-6/℃
227℃ (500K) 2.70x10-6/℃
Parallel to the C axsis
200℃7.6 x10-6/℃
1000℃10.0 x10-6/℃
927℃ (1200K) 4.93x10-6/℃
Specific Gravity
3.95 - 4.10
3.52
Dielectric Strength
480,000V/cm
-
Compressive Strength
20,800kg/cm2
-
Deplesion Potencial
5,000~7,000kg/cm2
-
Quoted from the reference literature.
Line Up
Slit Knife Double Bevel KI-A Series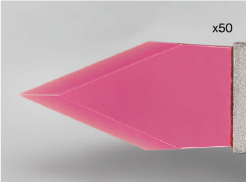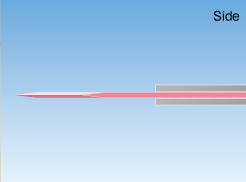 | Standard | Width | Thickness | Tilt | Blade Length |
| --- | --- | --- | --- | --- |
| KI-A-2.2 | 2.2 | 0.2 | 30° | 5.5 |
| KI-A-2.8 | 2.8 | 0.2 | 30° | 5.5 |
Custom
Width
Thickness
Tilt
Blade Length
ex. KI-AS-2.0-4.0

ex. KI-AS-2.8-6.0

2.0
2.2
2.4
2.6
2.8
0.2
30°
4.0
∼
6.0
Trifacet Knife Double Bevel KI-B Series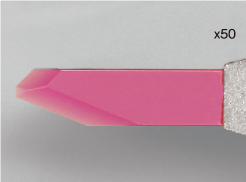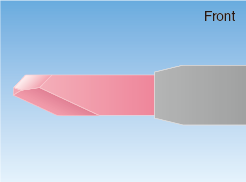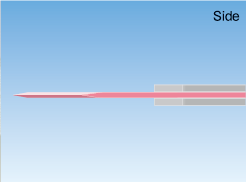 | Standard | Width | Thickness | Tilt | Blade Length |
| --- | --- | --- | --- | --- |
| KI-B-1.0 | 1.0 | 0.2 | 0° | 3.5 |