What is a microwave power amplifier?
Mobile phones, which have become an indispensable part of our lives, communicate using microwave wireless transmission technology. RF power amplifiers play an important role in transmitting these radio wave communications.
In recent years, in addition to microwave wireless communications, microwaves themselves have been regarded as a useful energy source, and have been actively applied not only to microwave wireless power transmission but also to material synthesis and chemical reactions.
In particular, applied technologies such as microwave heating and microwave excitation chemistry are considered to be innovative green technologies.
Ultra-compact 2.45 GHz microwave power amplifier
Orbray's 2.45 GHz microwave power amplifier, which uses GaN (gallium nitride) semiconductor devices and our company's LTCC (low temperature co-fired ceramic) substrates to operate, is the world's first ultra-compact ISM band amplifier. In order to miniaturize the microwave generator and make it portable, we adopted LTCC multilayer substrates with excellent dielectric constant and dielectric loss tangent characteristics. This not only makes the high-frequency circuit design compact, but also reduces the size of the power amplifier itself.

2.45 GHz (ISM band) microwaves are used for heating microwave ovens, and in vacuum tubes called magnetrons, which are still used today. High-performance microwave ovens using solid-state materials (semiconductors) are also being developed for practical use. 2.45GHz microwaves are also expected to be used for heating applications in medical, industrial, and consumer products. For example, it might be possible to develop a palm-sized, portable microwave oven that could be carried when mountain climbing, or used in the event of a disaster.
Features of microwave power amplifer
Ultra-small external dimensions (mm): 51.5 (L) x 15 (W) x 10.5 (H)
Compact size but high power output: 25 W or more
25 W output means no license is required for ISM band use*
High efficiency with GaN devices: 55% or more
Bandwidth: 2.4 -2.5 GHz
Gain: 22 dB or greater
Gain flatness:+/- 0.3 dB
Input/output impedance: 50 ohms
Appearance diagram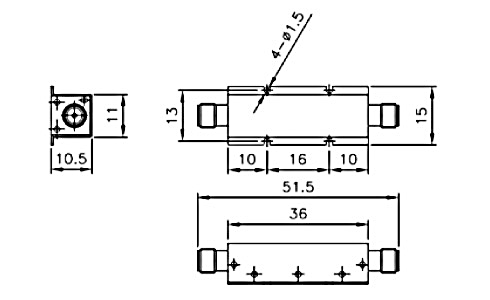 Specification of microwave power amplifer
| Characteristics | Min. | Typ. | Max. | unit |
| --- | --- | --- | --- | --- |
| Frequency Range | 2.4 | 2.45 | 2.5 | GHz |
| Small Signal Gain | 21 | | | dB |
| Input Power | | | 23 | dBm |
| Power Output | | 44 | | dBm |
| Gain Flatness | | ±0.3 | ±0.6 | dBm |
| Impedance(Input) | | 50 | | Ω |
| Impedance(Output) | | 50 | | Ω |
| Efficiency | 50 | | 55 | % |
| Drain Current (2.45GHz 25W) | 1.6 | | 1.8 | A |
Characteristics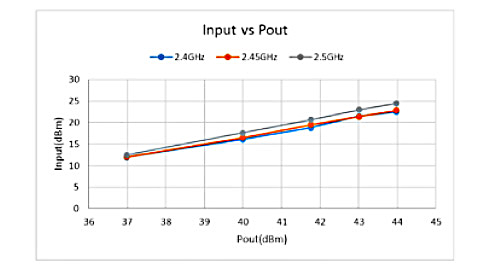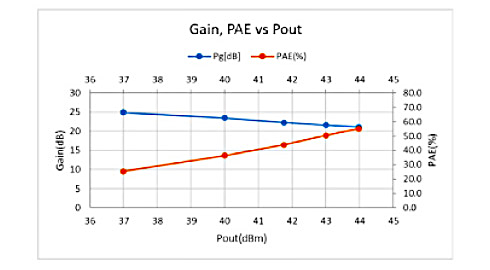 *In Japan, under the Radio Act, equipment that uses radio waves for purposes other than wireless communication falls under the category of equipment that uses high frequencies. According to regulations set by the Ministry of Internal Affairs and Communications, equipment that uses high frequencies with an output of over 50 W (with the exception of ultrasonic cleaners, microwave ovens, and other items, subject to type designation or type confirmation), requires a high-frequency use equipment permit.
Related products