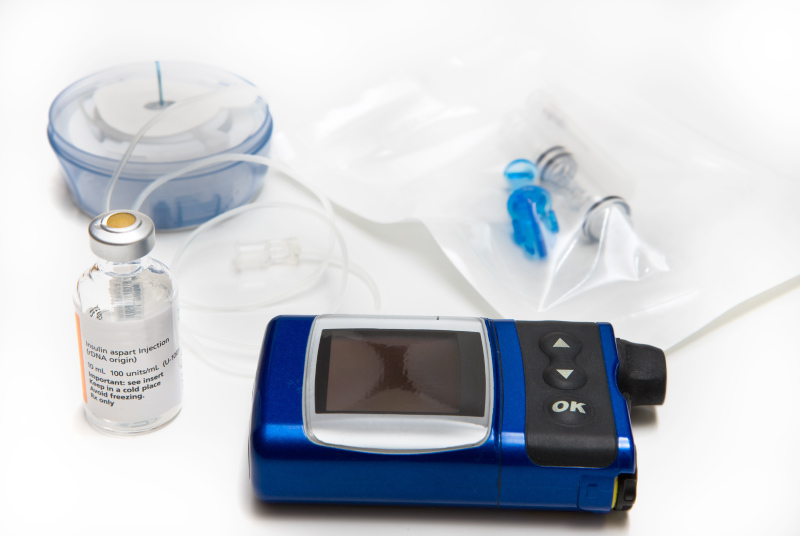 Small injection pumps are an example of a medical application of our motor. Although the majority of people are probably most familiar with pumps for insulin injection, in recent years a variety of new pumps have been developed for other types of drugs as well. Most such pumps consist of a container or a syringe that preserves the drug, and motors inside that serve as an actuator to dose the required amount of the drug at a reasonable speed.
The motors for medical injection pumps require the following features:

1. Light weight and compact size
In recent years, in addition to handheld pumps, wearable type pumps have been gaining popularity. To accommodate this need, the motor is designed to be smaller in size, and lighter in weight.

2. Low current consumption
Small pumps are normally run by a battery. Accordingly, it is important for the motor to have low current consumption so that it can run for a longer period of use. In this respect, coreless motors are better suited for pump application than cored motors because the coil rotor is much lighter in weight and consumes less energy than a heavy iron core.

3. Feedback function
It is essential for electronic pumps to inject a precise amount of a drug for the patient's safety. This is made possible by an encoder installed on the motor. Orbray has both optical and magnetic encoders in our lineup and customers can select them based upon their target resolution and the number of channels.

Orbray has a wide range of φ≤16mm brushed motors and we have been deliveringed them to both domestic and overseas medical device manufacturers for many years. Many of these products are customized based on individual requirements. If you are looking for a product that is not listed in our catalog, feel free to contact our sales office.