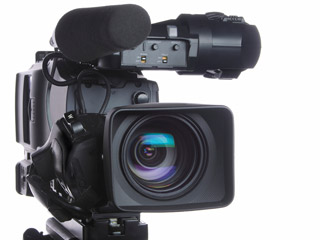 The lenses of broadcasting cameras used at TV and movie recording sites have Orbray's brushed motors installed inside. The motors operate the following three parts.:
(1) Focus: to bring an object into focus.
(2) Zoom: to change the focal length to adjust the angle of view.
(3) Iris: to adjust the amount of light entering the lenses.
For many years, Orbray motors have been favored as the mechanism to all of these movements.

Depending on recording scenes, the lenses quickly focus an object or slowly zoom in on it. As the lenses need to make these sudden changes in movements, the motors must have a quick response so that they can react flexibly. Also, if the motors generate a large amount of noise & vibration, there is a risk that the sound might be recorded in the video. Therefore, quietness is one of the key technical factors.
In order to meet these requirements, we offers as a set a coreless motor with low mechanical time constant and a specially customized spur gearbox that produces less noise.

In recent years, higher resolution cameras such as 4K and 8K are attracting more attention than conventional hi-vision cameras. But as image quality becomes higher, required lenses are now even bigger and heavier. The new challenge for us now is to design a motor with high speed response that is powerful enough to move the larger lens, yet quiet enough so as not to affect the movie quality. Orbray continues to improve its motors to satisfy customer needs.