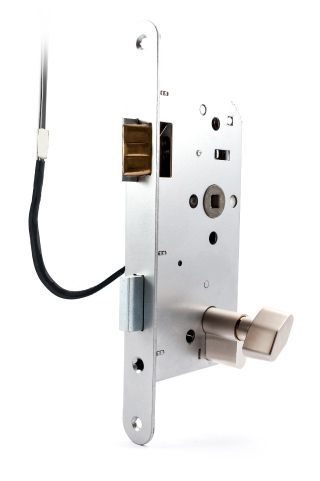 In the security industry, Orbray motors are used for electronic locks.
An electronic lock consists of a mechanism that electrically enables opening/closing movements without a key. Instead, it can work with IC cards, ten-keys, and recently, smart phones. Although both standard mechanical locks and electronic locks move a square shaped metal bar called a "dead bolt" inward/outward in an electronic lock, this bolt movement is operated by a motor.

The motor in an electronic lock requires high speed response so that the door quickly responds to the open/close command from the user. Also, doors that are used frequently may be opened and closed dozens of times a day throughout the year. It is therefore essential to design the motor to have a long lifetime and high durability. An even bigger challenge for the motor is low temperature operation, as some electronic locks are exposed to very cold temperatures reaching -30 degrees Celsius.

Our years of research and experiments allowed us to develop a specialized motor for electronic locks that meets all of the above tough conditions. If you are having trouble with motor and gear lifetime and durability, please contact our sales team. We will ensure that a suitable motor is proposed for your applications.