Lily Style: Interview with Female Entrepreneur in Japan vol.2

By Riyako Lily Namiki, President and CEO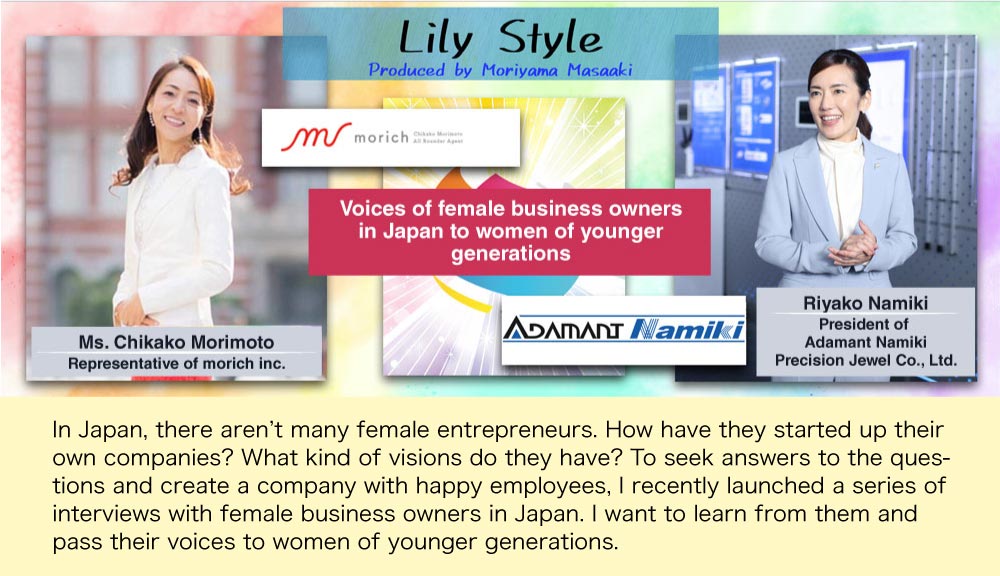 For the second interview, I invited Ms. Chikako Morimoto, a recruitment consultant. She was introduced in "The Professionals," a popular TV program of NHK, Japan's public broadcasting station. Ms. Morimoto succeeded as a top sales recruitment consultant at an agency affiliated with Recruit Co., Ltd. After working there for 25 years, she founded her own recruitment consulting company named Morichi in 2017. Taking advantage of her network, she also has more than a dozen of other positions, including a director of a non-profit organization and a supporter for a start-up company.
Lily: What were you like when you were a child?
Chikako: I was brought up in a really rural area surrounded by mountains, rice fields and lakes in Shiga Prefecture. I was a naughty girl. I felt a sense of inferiority of living in the rural region and wanted to leave the area since I was an elementary school student. Once I applied for a popular TV audition program "Star is Born." Though many of my high school classmates enrolled at universities in Osaka and Kyoto, I chose to go to a university in Tokyo. I wanted to become a flight attendant because English was my favorite subject and I was inspired by a Japanese TV drama "Stewardess Story." However, at the university, I met students who were born and brought up abroad. I realized that I was nobody.
Lily: But you found something at your university, didn't you?
Chikako: Yes. It was a rugby. When I was a high school student, there was a popular TV drama "School Wars" which depicted a high school rugby team. In those days, there were few women who played rugby, so I became a team assistant. I had been always thinking how I could contribute to team members, to support them and help them shine with happiness. This was a very important experience for me to work as a recruiting consultant in later years.
Lily: It is very important to concentrate on what is in front of us. My experience of being a devoted athlete is beneficial to my current job. Also, I am always thinking how I can contribute to make Adamant Naimiki's employees happy.
Chikako: My brother, who's one year younger than me, had an impact on my life as well. He got an intractable disease when he was 2 years old and had to spend 70 to 80 percent of his life at a hospital. Looking at what happened to him, I began to think how I should live - probably earlier than other children. I started to feel grateful that I can do whatever I want to do.
Lily: I believe that's the source of your power and your way of life which encourages other people. Your childhood in the wilderness has helped to develop your five senses, hasn't it? I think such experience has also had an effect on your business success.
Chikako: My father also had an influence on me. He quit a company job to start his own business when I was an elementary school student. He's so good-looking and often said to resemble Yujiro Ishihara, a famous Japanese actor. I love him.
I worked as a part-timer at his company and made estimate sheets and helped other things. When I was a college student and began job hunting, my father came to my mind and I just wanted to help him. In those days, my father had difficulty hiring employees. It took long for him to hire workers and some workers left the company after short stints. So, I wanted to do a job related to human resources.
Lily: I agree. I also think the most important for small- and mid-sized companies is human resources.
Chikako: I exchanged about 1,000 name cards in my job annually. COVID-19 pandemic made it impossible to do so and I realized how important it is to meet people face-to-face and spend time together. I cherish time to meet with others.
Lily: Haven't you had any difficulties due to being a woman?
Chikako: My biggest struggle was parenting. I have two sons and made them feel lonely. One of them became mentally unstable and said he didn't want to go to school.
Lily: Every child enters puberty and I don't think it's your fault. The problem can be solved if children take time and find places they belong to. I have three children. My eldest son is a senior high school student and we have few conversations. Once I secretly read his report and found that he wrote all I wanted to tell him. I noticed he got my messages properly, even though he never told me so.
Chikako: I want to protect my children even if it costs my life. If there is any mission in my life, it is to live a happy life with a pride. My children can't be happy if I feel unhappy. I hope to be a person they can be proud of.
Lily: I totally agree. It's essential that a mother lives a happy life.