Lily Style:  Interview with female entrepreneurs
Vol. 5
President and CEO, Riyako Namiki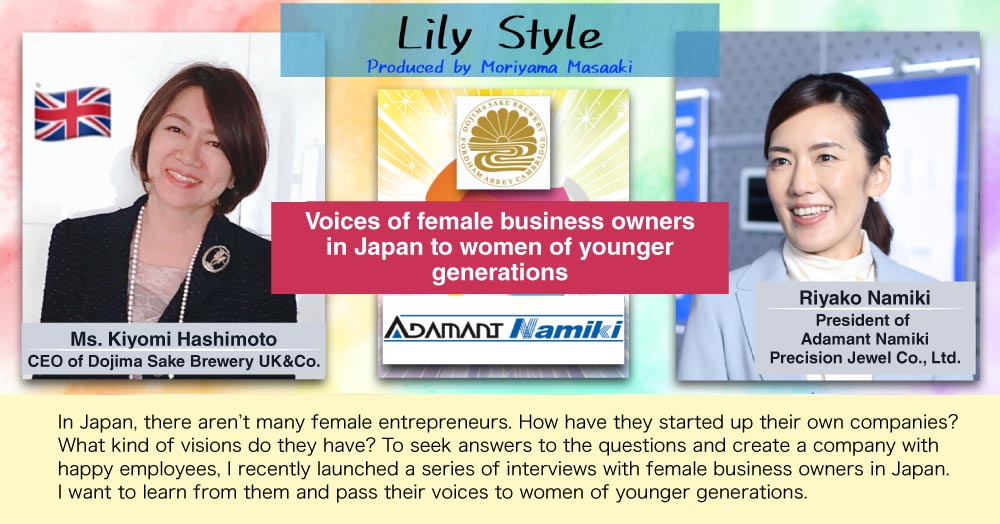 For our fifth interview with female entrepreneurs, we invited Ms. Kiyomi Hashimoto, CEO of Dojima Sake Brewery UK & Co. in the United Kingdom. This is our first interview with female entrepreneurs living abroad.
Ms. Hashimoto purchased Fordham Abbey Estate, which has an 18th century-built manor house designated as a historically important building and a traditional garden, in East Cambridgeshire. She founded a brewery of Japanese sake at the estate to produce authentic Japanese sake in U.K. and introduce Japan's food culture and traditional crafts to the country and Europe.
Ms. Hashimoto is also deputy president of Dojimabakushu Co., a brewery in Osaka, Japan. Her husband Yoshihide heads the company and also serves as a managing director of Kotobuki Shuzo, a Japanese sake brewery which has 200 years of history.
In this interview, I asked about how she has overcome difficulties in launching a sake brewery in U.K. and managed relationships with her local employees. She also discussed advantages and disadvantages for a female president.
Lily: Wasn't it difficult for a foreigner to get a permission for a land development project in U.K.?
Hashimoto: In U.K., it isn't easy to obtain a permission even for an ordinary land development project. I happened to encounter Fordham Abbey Estate and felt as if I were struck by lightning at its first sight. It's an estate with a historically-important building (Grade 2-listed building) and boasts about 60? acres of land. When I said I wanted to build a Japanese sake brewery at the place, all of the British people who had helped me look for a property objected my plan.
Even so, I was convinced of the project's success because I felt like having received a message from heaven. To get an approval from the area's residents and administrators, I painstakingly explained to them about my proposal dozens of times. The residents made their requests without any reserve. Even so, when I brought them to Fordham Abbey, they said they hadn't visited the place for many years, and they were moved to tears. Looking at the scene, I made up my mind to accommodate their requests as much as possible, and I suppose I was able to achieve the goal by 99 percent.
Ten counsels make a final decision on a property development permission by majority vote at a court. We heard that four counsels customarily object an application submitted by a foreigner. Our proposal, however, obtained a unanimous permission, which was extraordinary. One counsel told me that a number of development projects had been proposed for Fordham Abbey, the historic estate, and that our project proposal was a model example for the place even though it was submitted by a foreigner. I cried tears of happiness.
Lily: I am sure that you have a strong leadership to draw praises from British people for your passion to introduce Japanese culture with painstaking and dedicated preparations.
 I suppose you treat your employees gently just as you do to your own children. What do you think strong points of female entrepreneurs are?
Hashimoto: I think that's a communication skill. I have six children and I believe that raising children requires such skills. Through many mistakes, I have learned that it is important to avoid denying children's words completely, without giving enough thoughts to them. When they say something, they have certain reasons, so I always try to ask my children "why."  Such action often helps me realize that I fail to deliver my intention well enough to them. Even if we look at same directions, we may misunderstand each other. If we listen to each other carefully, we will find that we share same thoughts.
Lily: I have three children and I totally agree that parenting and communicating with employees have a lot in common. While listening to your story, I would like to express once more my respect for your achievement.
Hashimoto: If our employees can't finish their tasks at a scheduled time, I would ask them to explain why that happens, instead of telling them what to do. I would ask them how they want to handle tasks next time and explain it to me in their own words, instead of telling them to finish at a scheduled time. Then we can find that we share same thoughts.
Lily: When I had a one-on-one meeting with a female employee and we chatted about bread, she later mailed to me to give some information about a nice bakery. I have never received such mails from male employees. Do you have any tips to smooth out communications with male employees?
Hashimoto: It depends on their experiences and characters, though I believe having chats is very important – casual chats, particularly those on food. People like to eat something delicious. It's not easy for our employees to speak frankly if they are suddenly asked to talk with me in a meeting room. So, I try to relax them first by having casual chats or meals. Through such conversations, I try to find out what are actually on their minds and sometimes I can find out what they want me to do.
Lily: Have you ever had any disadvantages of being a female entrepreneur?
Hashimoto: In U.K., people are more open to affirm certain values, so being a female boss hasn't caused any problems. Rather, I have some difficulty in relation with my husband. When we had disagreements, I had a tough time.
Lily: There are a variety of issues we have to deal with, aren't there? Finally, could you give some words to readers of this interview?
Hashimoto: I believe that women, once they make up their mind, are stronger than men. Men display strength by manifesting assertive and dominating attitudes, while women express their abilities as if they wrap someone in cotton – some power that makes us feel safe when they are beside us. With their smiles, female presidents can convince their employees that everything is all right even if troubles arise.
Lily: You have said it's a responsibility for Japanese people to disseminate their thoughts of being considerate for others and cherishing a harmony and that will ultimately lead to achieve a world peace. I think many people agree with the idea. How do you respond if you, an entrepreneur, have misunderstanding with your employees?
Hashimoto: It's crucial to share the same vision. It's important to explain what your concept is, why you are making sake and promoting projects – not just to say that you want to increase annual sales or make good sake.
It goes without saying that we need to make a good sake. We should be proud that we brew sake as a representative of Japan and be aware that our job is very meaningful and serves to other people because brewing sake and holding events is to introduce Japanese culture – I have tried to discuss thoroughly these things with my employees. I believe we will leave the footprints of our struggles in 10 years. I have had no doubt about our success. I have firmly believed that we would have nothing to worry about, whatever happens. With the belief, I think I have been able to alleviate our employees' concerns.
Lily: Thank you so much. I have served as the president of our company for only three years, but I suppose it is important for entrepreneurs to stay positive and continue such efforts. I am encouraged by you so much. I have been cheered by your words that women should be more confident about our gentleness and strength.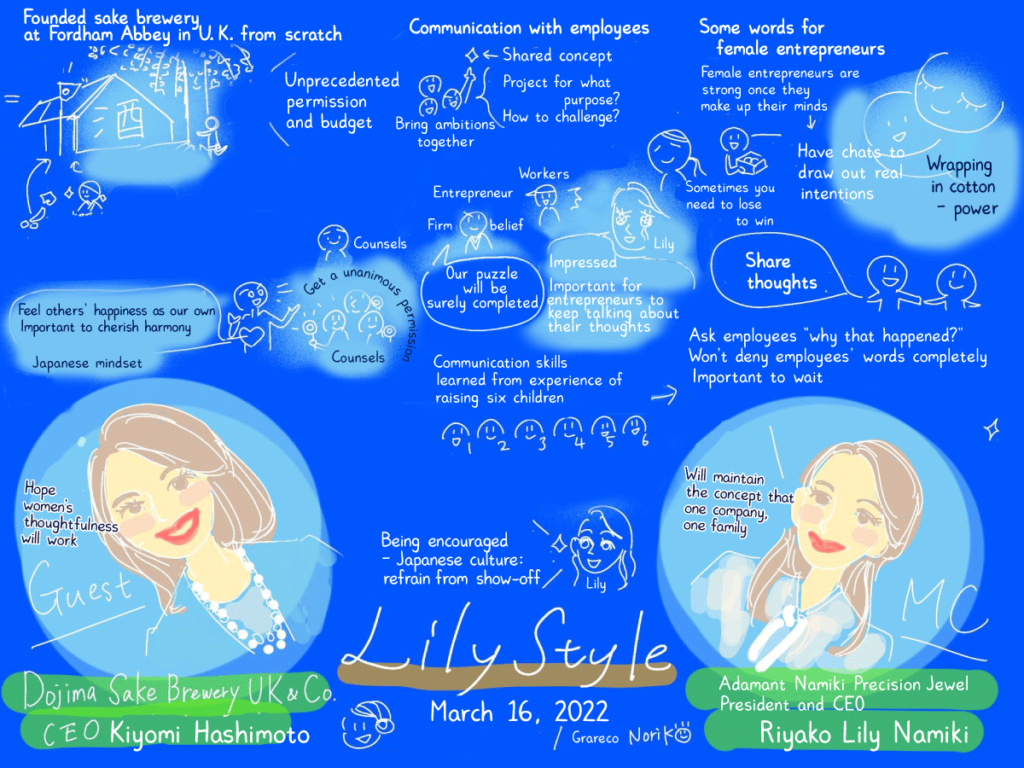 Dojima Sake Brewary