"Chinjuno-mori" project

By President and CEO Riyako Namiki
Since childhood, I have become familiar with nature along with my father, who loves outdoor sports. After growing up, I have continued to commune with nature and worked as a volunteer instructor for children's outdoor activities.
I became interested in nurturing forests after I met Mr. Fumitaka Nishino, a doctor forestry. He invited me to the event of reforestation in the earthquake-stricken Iwanuma city, Miyagi Prefecture in northern Japan. It was very natural for me to get involved in such projects, given my longtime affection for nature.
Dr. Nishino has been a member of the project to grow "Chinjuno-mori" (sacred shrine forest) all over Japan, including the coastal areas of the north eastern Japan which was devastated by the major earthquake and tsunami in 2011. These forests are aimed at protecting people's lives from disasters.
In the 2011 catastrophe, the big tsunami caused by the quake completely destroyed and washed away concrete embarkments and pine woods along the coasts. Even so, trees being rooted deeply in the ground withstood tsunami and helped to mitigate the forces of waves. In the Great Kanto Earthquake in 1923 and the Great Hanshin Earthquake in 1995, forests helped to prevent the spread of fires and reduce the disaster's damages.
These forests had a variety of kinds of trees that had grown in their areas for years. The trees have fostered birds and animals by providing them with food and nests, and brought blessings to rice paddies and fields. "Chinjuno-mori" project intends to regenerate such bountiful forests all over Japan to sustain our country into the future generations. In Japan's rural areas, each village has a shrine where the region's protector deities have been believed to reside. Many of such shrines are surrounded by forests and villagers have taken care of trees and plants in the precincts.
"Nurturing forests is nurturing human resources and planting trees in our hearts."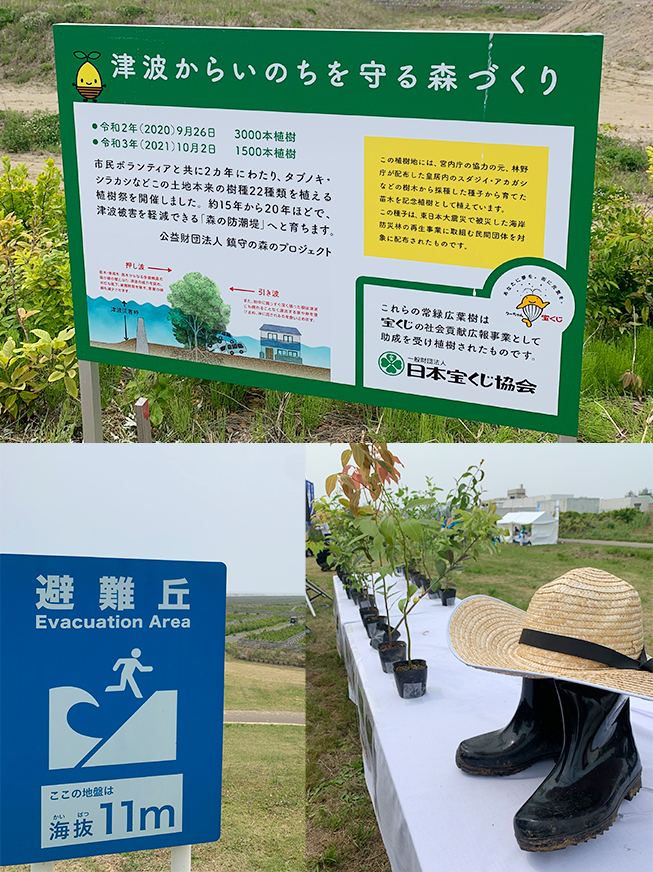 This is the phrase made by Akira Miyawaki, the late professor of emeritus of Yokohama National University. Prof. Miyawaki promoted projects to grow potential natural vegetation forests, which are composed of trees native to their areas and can grow on their own. Based on his philosophy, Prof. Miyawaki helped to grow forests all over the world.
I joined the event of planning trees in Iwanuma City at the invitation of Dr. Nishino.
The venue of the event is called "Sennen Kibo no Oka" (Millennium Hope Hills.) It's a garden area converted from the land which the earthquake and tsunami made unhabitable. Six parks and 14 hills are located in the area and they are connected by garden paths. Beside the paths, trees have been planted to form forests. The development weakens the forces of future tsunamis by using paths to connect hills. The layout is called green coastal tide embarkment, and hills serve as shelters in case of emergencies. Debris left by the tsunami were used to form the hills' foundation.
In the 2011 disaster, 48 percent of the land in Iwanuma City was flooded by tsunami. Since the incident, Iwanuma has pursued a city planning to mitigate damages from disasters, rather than attempting to completely prevent destructions. It has constructed embarkments featuring forests along the coastlines severely hit by the tsunami. The green coastal tide embarkment is very unique in the world.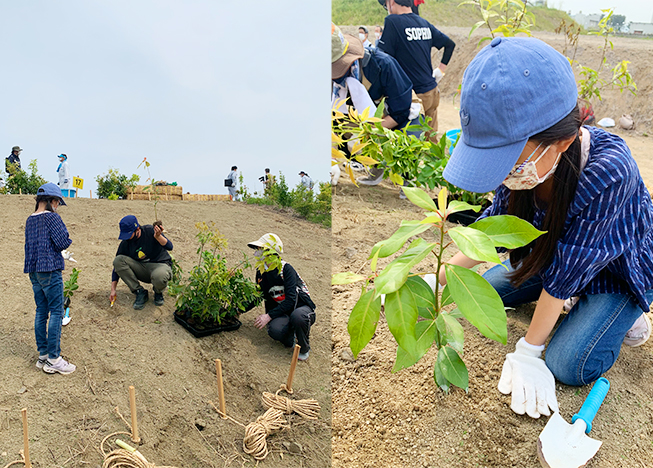 Dr. Nishino and other members have done researches on the species of trees in the sacred shrine forests that survived the 2011 tsunami. In Millennium Hope Hills, they decided to plant trees of a balanced combination of 21 species found in the shrine forests, including tabunoki (Machilus thunbergii) because it takes roots deeply in the ground.   
James Nash, president and CEO of AIG Japan Holding, has participated in the tree planting in Iwanuma since 2014. His company sells insurance policies and it's their mission to protect people's lives from disasters, he said. Employees of AIG Japan's branches in the country have joined the volunteer activity. At first, they worked with other supporters of the project. As years went by, AIG employees became capable of handling tree planting for themselves, according to President Nash. It is great for all members to join forces in the project, he said. He can feel AIG employees are more united than before, he added.  
I was very impressed because AIG employees united their forces and minds to engage in tree planning, regardless of their locations, sections and ages.
Trees planted eight years ago have grown as high as 5 meters, enduring the region's severe environment. Though we have yet to clearly observe their disaster-reduction effect, I believe we can perceive their wind-breaking effect.   
I always prioritize the safety of our company's employees. I have leaned a lot from the disaster-prevention power of forests, which have withstood natural disasters for hundreds of years and sustained eco system and the system of nature. I believe I can make use of those lessons to enhance the safety of our employees.
We have "Chinjuno-mori" in the center of Tokyo as well - the forest of Meijijingu Shrine. This forest was created as a national project. As many as 3,000 kinds of creatures have been found in the shrine's forest, which supports the biological diversity of the Tokyo Metropolitan area. If you have a chance, please visit Meijijingu Shrine's forest and find how magnificent it is. Once you step into the forest, hustle and bustle of the city disappear, birds sing, and you can feel a cool breeze. You will realize how important this forest is for the city of Tokyo.
Keeping an eye on the distant future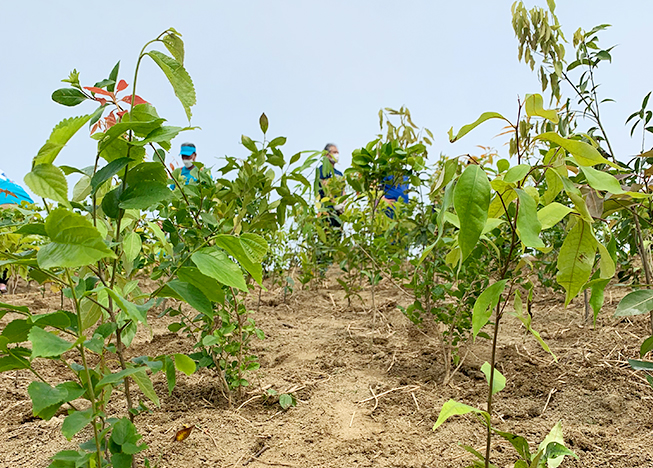 Japanese people have protected forests for thousands of years for their future generations. Thanks to lessons I learned from forests, I have just begun to think about our distant past and future - hundreds of years ago and hundreds of years from now.
I often talk about my ambition to create a company which can sustain for 100 years. We are a manufacturing company and I believe the establishment of a company means the nurturing of human resources. It is very important to build a strong foundation on which a company can take root and people can flourish.  
That's the reason we have carried out projects to work with children and get involved actively in the city planning of the regions where we work. I am always thinking how our company can contribute to the regions and people as they have supported us for a long time. With the cooperation with our employees, their families and people in the regions, I would like to start building sustainable forests which can enrich people's minds so that we can help to make the distant future bountiful.
Introducing the links related to the article above:
To know more about "Chinjuno-mori" project, please click below.