Adamant Namiki's Initiative for SDGs: "Fro-pro Orbray" Online Presentation Meeting By Riyako Namiki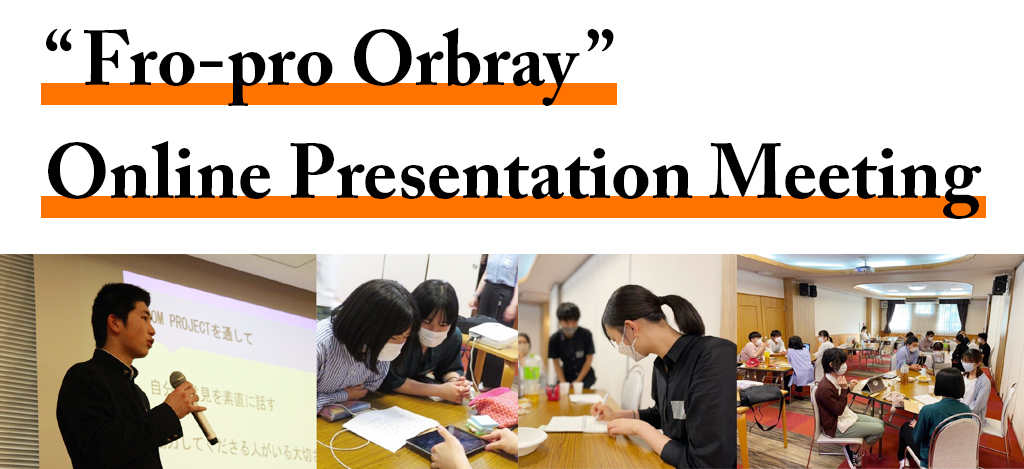 Orbray Co., Ltd. has supported "FROM PROJECT," a non-profitable organization which helps high school students find their own projects in daily life and realize goals with the assistance from college students.
Following the first season of their activities in last winter, our company has continued to sponsor their second season from June 2022. The project was renamed as "Fro-pro Orbray" because we are scheduled to change the company name to Orbray in January 2023. The students held a final online presentation meeting on Aug. 27, in which 10 high school students reported about their individual projects over a period of about 100 days.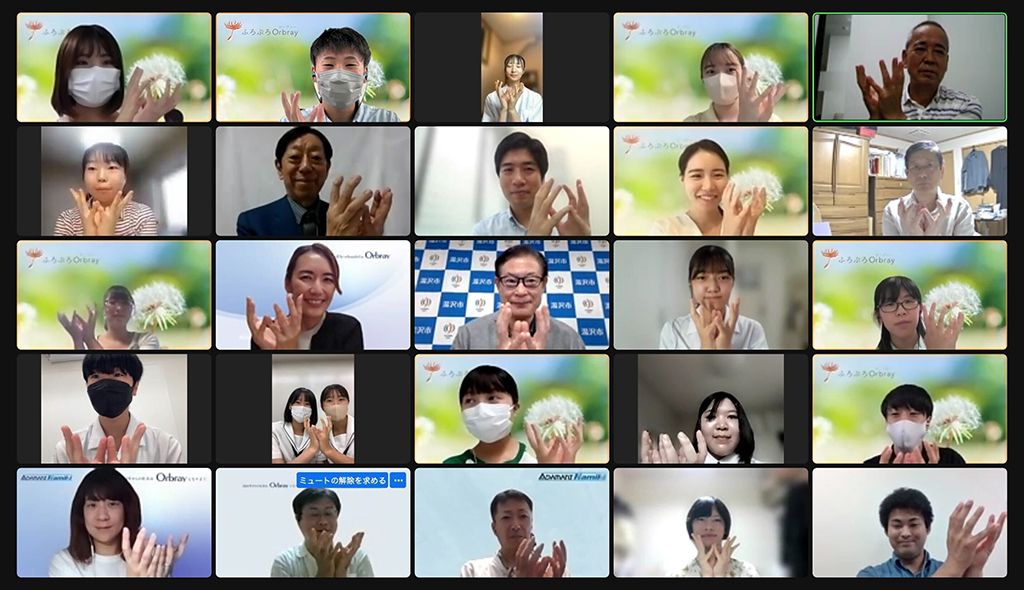 To see details of Fro-pro's activities, please click this site and check out SNS:  https://we-love-akita.com/magazine/2020/12/13/fropro/
Our company came across Fro-pro while we were looking for activities that can contribute to promote sustainable development goals in Akita Prefecture, where we have plants. We were inspired by their visions so much that we decided to provide assistance to their activities. Reflecting our company's name change, we called the first season of their activities "Fro-pro ADNa" and the second season "Fro-pro Orbray."
Now, let's have a look at details of their final presentation meeting held last month.  
Table of contents [close]
Project
Ayaka
The first presenter was Ayaka, who feels that the area she lives has been deserted in recent years. The place has a lot of nature and is well-known in Japan for its Inaniwa noodles, a local cuisine. Even so, Inaniwa Elementary School was closed due to the decrease of students and the pandemic has hampered exchange activities in the communities.
Ayaka realized that human connections are the region's charm and that's the very reason she loves the area. She proposed an event to connect people from multiple generations. The day of the event was rainy and she had to change some of the initial plans. Even so, 16 children and 16 adults attended. They said in a survey that they were 100% satisfied. To the event, Ayaka invited some members of the boccia association to encourage participants to try the ball game, which is a main sport of paralympic games. Her efforts to involve many people led to a success of the event. Ayaka said she learned a method to develop communities and she is currently thinking about a new plan.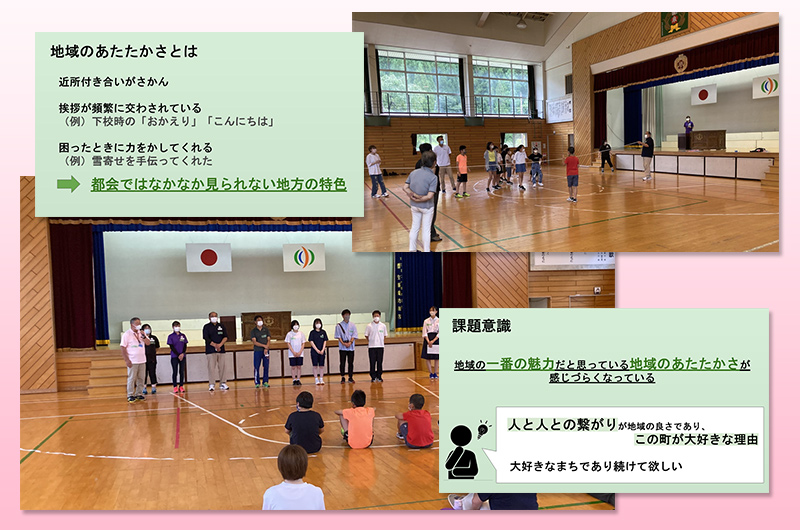 Honoka
The second presenter was Honoka, who loves Akita. She wanted to chat about Akita's attractiveness with other high school students.
Honoka made digital flyers and tried to advertise the event by twitters, Instagram, school chats and other social media. At the event, participants answered quizzes about the Akita dialect, local food, festivals and other Akita-related experiences online. They had such lively discussions that the meeting continued for two hours, twice as long as initially scheduled. Honoka got fresh information about Akita from other participants. She also learned how others consider about Akita and how much they like the prefecture. She hopes to continue similar events and increase the number of young people who discover Akita's attractiveness and share the charm through social media.
For her next project, she is thinking of getting connected with many other Akita lovers beyond generations. She said she has learned how important it is to speak of her own opinion and take actions without fear of failure.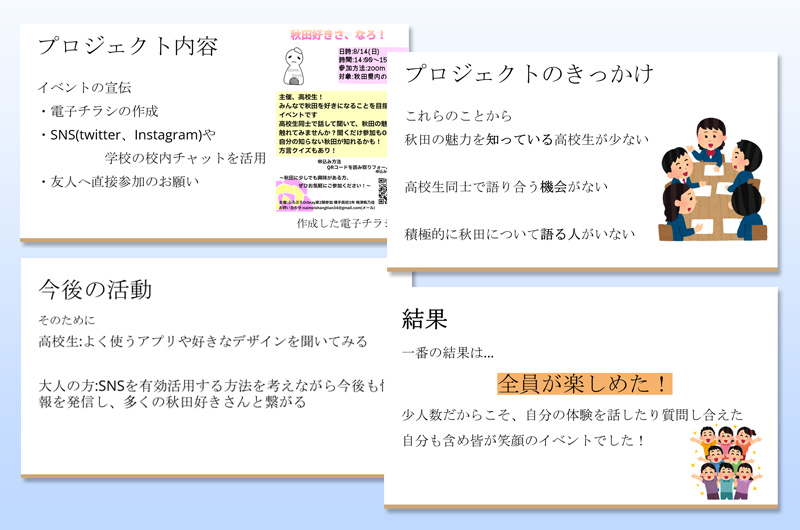 Wako
The third presenter was Wako. She got interested in skin cares and makeups after becoming a high school student. She wanted to make friends to discuss these topics that aren't taught at high schools. She also hoped to get advice from experts.
A day before the event, a lecturer got infected with COVID-19 and some other expected participants became close contacts. Wako was thinking of switching the event to an online meeting, but the lecturer remained sick and Wako decided to cancel a workshop. Still, she wanted to do something and chose to share information of the event through Instagram.
Although the use of Instagram was a last-ditch effort, Wako asked about problems of skincare and makeups by using Instagram's story function and received 96 reactions. Then she asked those questions to cosmetic consultants at drug stores and skin doctors and posted their answers on Instagram's story. Wako received more than 80 positive reactions. She also received questions from those who had a look at her story on Instagram. Wako answered them and help to resolve their problems.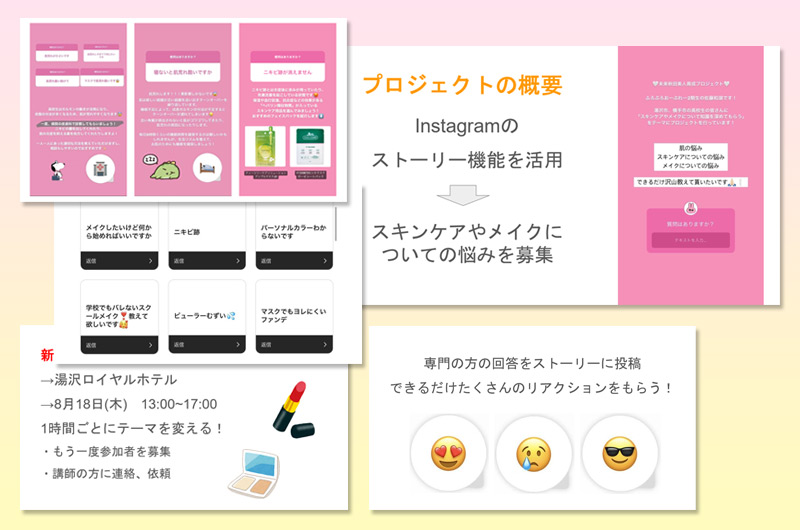 Hiyori
Hiyori, the fourth presenter, chose the effective use of "Classroom," which is one of Google's apps, as her project theme. At her school, this app is used to conduct online learning, inform changes of school events, provide surveys, homework and its answers as well as tests.
On this app, it is difficult to find the arrivals of new messages while teachers have failed to give enough explanations on functions.
Hiyori thought there should be solutions to this problem and did some research. Finally, she found that the app has the function of sending e-mails to students' G-mail accounts whenever new information is sent. Even so, only half of the students have used G-mail accounts and fewer students were aware of the function. Hiyori noticed that many students were reluctantly using the app because they had no other choice but to use it even though they were frustrated with it. Hiyori concluded that her project was meaningful because it revealed the problem. She wants to make full use of the app so that she can help other students.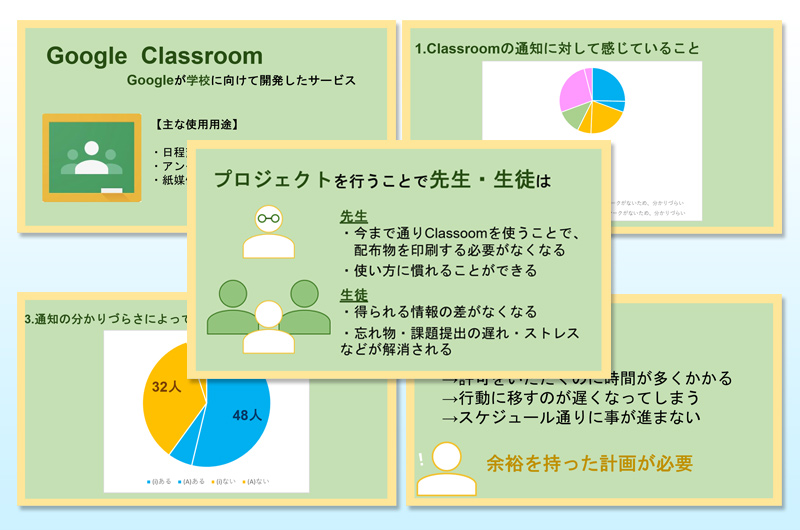 Yuna
The fifth presenter was Yuna, a dog lover. Her project was to hold an event in the park in Masuda machi in Yokote City to have fun with pet dogs during summer. She thought there were few such occasions. She also distributed flyers to advocate disaster prevention measures for pets to remind dog owners of the responsibility and duties to keep dogs.
The idea of making disaster prevention flyer was inspired when she had a look at a pamphlet obtained from the Society for the Prevention of Cruelty to Animals. She thought there might be quite a few pet owners who had never considered about disaster prevention measures.
Yuna said she has learned a lot through this project. At the gatherings involving animals, event organizers should be aware of the responsibilities which may not arise at events targeted only for people – to confirm the completion of castration surgeries, vaccinations and pet training as well as the solutions for troubles involving pets, she said.   
Yuna said she had a lot of her first experiences in the event and both her failures and successes have contributed to boost her confidence. She wants to continue such activities while making improvements, she added.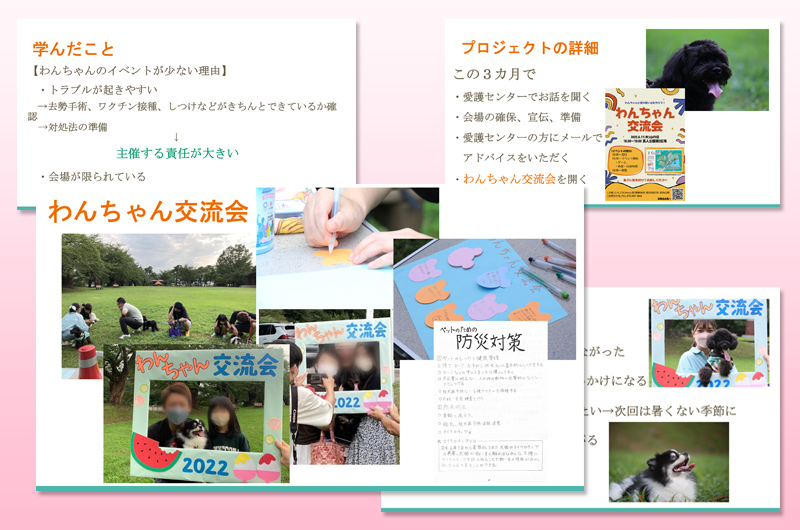 Sakura
The sixth presenter was Sakura who launched the event named "Ecologically-friendly town – Yuzawa City." She focused on the recycling of used clothes. Yuzawa City has no second-hand shop for used clothes and it's not easy to recycle them. She also found in a municipal newsletter that the city has declared "zero-carbon city" and she interviewed some officials to hear more about the plan. She found that Yuzawa City aims to reduce carbon dioxide emission to almost zero by 2050 and that the city, which as an abundance of forests, can sell CO2 emission right to earn money and invest such funds into projects to revitalize the region's economy.
She distributed 200 flyers to advertise a flea market to sell used clothes and sold 50 clothes. She also succeeded in raising her customers' awareness about environmental problems, she said. She is already thinking about her next project. Though the flea market attracted a lot of male customers as well, it didn't prepare to sell men's clothes. She wants to prepare men's used clothes for a next market.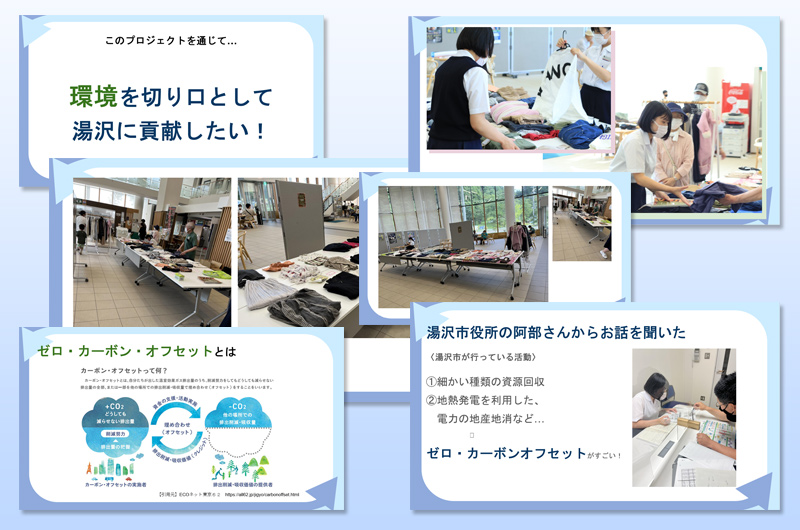 Misaki
The seventh presenter was Misaki, who worked on the project to repel insects. She searched on the Internet and obtained information about methods to get rid of insects easily without harming animals and environment. She examined those measures.  
At first, she checked about household insecticides and found that such chemicals include cyfluthrin. The insecticidal ingredient could cause nausea and headache if excessively used. Then, she looked for environmentally-friendly insect repelling measures without killing them.
She conducted experiments to check the expelling effect of the methods using natural smells and mosquitone. Mosquitone is the sound that human beings can hardly hear and insects dislike. She did research on mosquitone on You Tube and made the sound for 30 minutes for three days near the window. The method had little expelling effect. To make the matter worse, the sound resembled tinnitus and she felt uncomfortable with it. In the experiment of smells, she placed juice of lemons and rosemary for three days near the window. These flavors are said to be helpful in expelling insects. In her findings, lemon juice worked well while rosemary turned to be ineffective.
Misaki said this project taught her the importance of examinations with her own hands and eyes, instead of blindly relying on information from the Internet.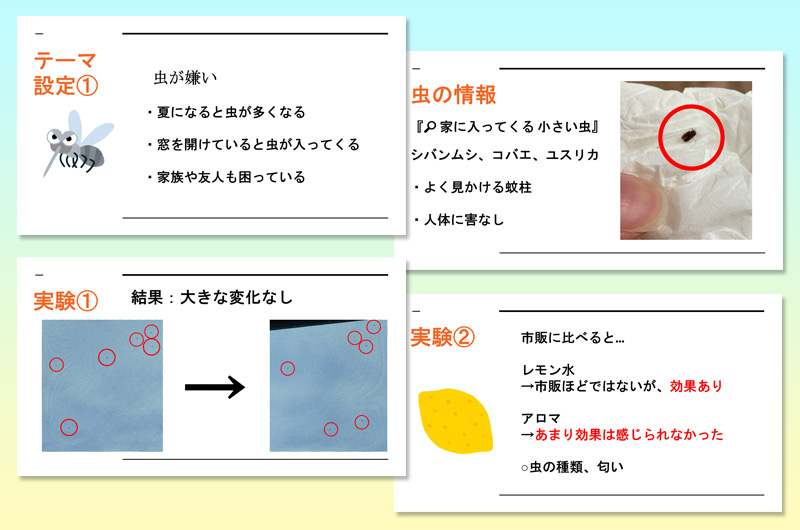 Haruto
The student who made the eighth presentation was Haruto. He picked up the project of finding study methods to help increase academic scores. He selected the theme because he was told by his teacher that the average scores of his class were low in some subjects in exams, even though the class belongs to the academic course of his high school. The comment made him frustrated. Haruto also wanted to raise scores by reviewing basics ahead of university entrance examinations. To attain the goal, Haruto aimed to improve academic performance of his entire class by assisting his classmates who can't figure out how to study.
As the first step, he did a LINE survey in his class and asked which subjects the students have difficulty studying. Nineteen of 32 respondents said they can't find good ways of studying Japanese.
As the second step, Haruto surveyed university students and asked about their learning methods. As the third step, Haruto wrote down what he found in the surveys and published a 6-page leaflet. He shared the information via LINE and in papers and asked the classmates to try such methods for two weeks during the summer vacation. 
In the following survey, all of the 19 students said they got some tips for studying from Haruto's information.
Haruto said he isn't very good at acting independently in a daily life. This project, however, prompted him to try and gave him a good experience, he said.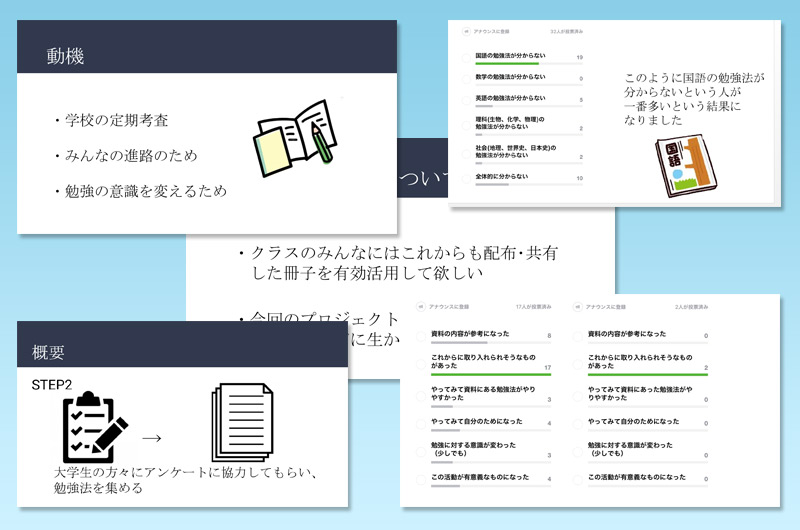 Kotomi and Suguri
Final presenters were Kotomi and Suguri. The duo tackled with the project of asking for advice from university students. The two began to think seriously about their future path after entering high school but they had few advisers. They wanted to talk with university students, who are close to their generations and can help them think about future.
At first, the two held a small event in which they asked how to choose universities. At a bigger event, they had free discussions with college students to increase options for future path and have a broader perspective. They made posters and programs. Both events were online.
The events were kicked off at 8:30 p.m. so that students who attend club activities and take supplementary lessons can also join. They used slides and zoom's reaction functions and enjoyed the events.
In a post-event survey, the high school students said they felt more motivated and positive about their future. College students said they learned from the exchanges with the high school students. Kotomi and Suguri said they felt that the events benefited all the high school and college students who took part in the events.
The two students want to hold a gathering which can contribute to more students. They decided to have the third event in winter.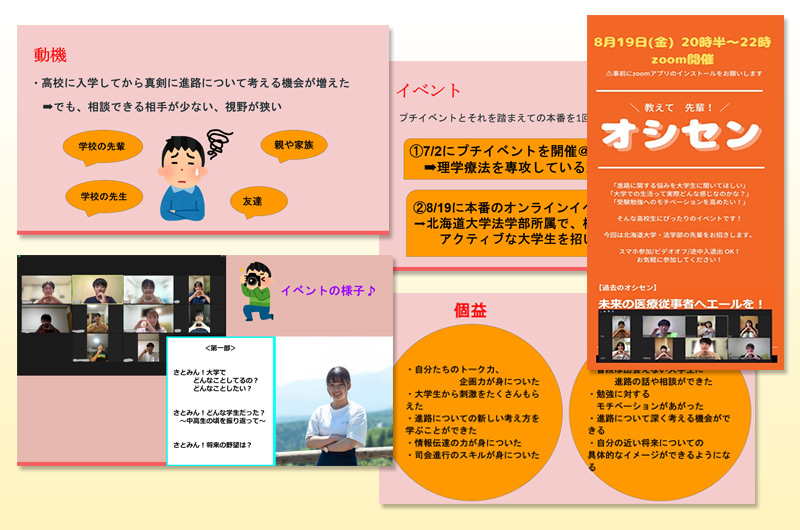 Following the all presentations, four prizes were awarded. The action-focused prize was given to three: Wako, who worked on skin cares and cosmetics; Hiyori, who found a better way to use the app of "Class room"; Haruto, who sought leaning methods to improve academic scores. The prize for excitement went to three projects: Ayaka, who tried to encourage exchange activities in her region; Misaki, who found insect-expelling measures; Kotomi & Suguri, who asked for college students' advice. The prize for learning from events was given to three students: Honoka, who loves Akita; Sakura, who chased an ecologically-friendly city of Yuzawa; Yuna, who held an event for dog lovers.
The best prize among the all projects, which is acclaimed to have a positive impact on a presenter and the society, was awarded to Ayaka, who was seeking an event to revitalize her region.
Related article
Adamant Namiki's Initiative for SDGs – Launching ''fro-pro'' Workshop
Fro-pro Orbray Instagram (Japanese only)  https://www.instagram.com/fropro_orbray/ 
FROM PROJECT (Japanese only) https://www.fromproject.org/